Terror suspect set to hang art
By NATALIE AKOORIE - Waikato Times | Saturday, 3 November 2007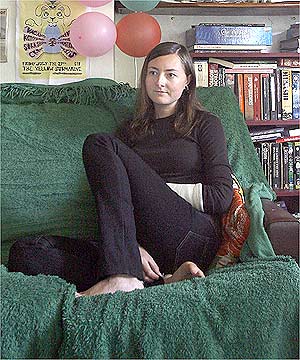 Related Links
Articulate and thoughtful, Marama Mayrick has packed a lot into her 24 years.
But the latest event in this young Hamilton woman's life has catapulted her from fledgling activist to alleged terror suspect after she was one of 16 people arrested in the October 15 police anti-terror raids.
Miss Mayrick describes herself as an environmentalist, someone with a social conscience.
"I used to describe myself as an activist. I got involved in doing political actions in 2003 protesting against genetic engineering, in Wellington.
"That whole time around then when the GM moratorium was being lifted was a really politicising time for me in my life that just changed everything."
At the time, the farm-girl from the eastern Bay of Plenty had completed a Diploma in Art and Creativity at The Learning Connection before going on to do a Diploma in Jewellery Design and Manufacture at Whitireia Polytechnic in Porirua.
Then in 2004 Miss Mayrick joined a film crew, travelling through South, Central and North America, Asia, the Middle East and Australia for 10 months, documenting social and environmental sustainability.
After a stint at home with her parents near Ohope, she sold her jewellery flowers made from bullet shells to save up for an OE in the UK.
From there she moved to India for five months, volunteering for Shikshantar, an alternative education organisation.
While overseas she was involved in other protests but when her visa expired Miss Mayrick returned home and decided to settle in Hamilton, where she could have a vegetable garden and "ride my bicycle".
At Waikato University she took some independent papers toward a social sciences degree, which she plans to finish when she's 25.
Yesterday a hand-written sign remained posted on the door of Miss Mayrick's Hamilton East flat, pointing police to her bedroom in case of further raids.
She faces five weapons charges after being accused of participating in alleged military-style training camps headed by Tuhoe activist Tame Iti in the Urewera National Park.
Iti is a long-time family friend of Miss Mayrick's parents Ruth Gerzon and John Mayrick, after meeting around the time of the 1981 Springbok tour demonstration.
But despite her own beliefs, her connection to Iti, and the fact she is close friends with one of the other accused, Miss Mayrick admits she was shocked to be rounded up in the anti-terror raids.
"I was really surprised. It was like, `whoa, what the hell's going on'?" Before her arrest, which resulted in two "surreal" weeks at a women's prison in Manukau "like walking into a hotel compared to the (police) cells in Rotorua" Miss Mayrick broke both her elbows and her left wrist in an "embarrassing, early morning" accident.
It meant the art exhibition she had been working on eight drawings of orchids was put on hold, but in prison she decided it should definitely go ahead.
Now aptly named Orchids Under Surveillance, the exhibition is being hung today in La Commune Cafe in Victoria St, and opens on Wednesday.
Miss Mayrick who doesn't celebrate Christmas and doesn't drink alcohol, says Treaty of Waitangi issues are important to her.
"I still think in terms of recognising the rights of tangata whenua, New Zealand has got a really long way to go."
These days though, protests are not as regular for Miss Mayrick.
"I decided when I came back that there are all sorts of different ways that you can go about achieving social change. I still think that protesting is really important but I wanted to work on community based things." For now, the vegetarian and former picture framer is not sure exactly what she will do. "It's going to be really interesting trying to get a job now," Miss Mayrick laughs.
"I'm going to have to have a really sympathetic employer."
Miss Mayrick is bailed to reappear in court on December 3. The Waikato Times cannot detail her charges more specifically while she is still before the court. However, it is understood that Miss Mayrick is one of four arrested unlikely to face any charges under the Terrorism Suppression Act.
Anti-terror raids Headlines