Maori protest anti-terror raids
By DAN EATON - The Press | Tuesday, 16 October 2007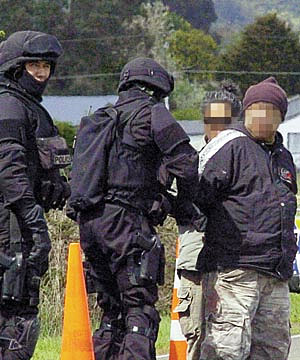 Supplied
Related Links
The Maori Party is questioning police tactics and evidence after a series of dawn raids by anti-terrorist squads around New Zealand.
Police said yesterday that they had neutralised a militant group running secret military-style, weapons-training camps in rugged North Island bush.
Media reports said that two hunters had alerted police to the presence of armed men in camouflage in the Ureweras after stumbling into their camp.
More than 300 police stormed several camps and homes, making at least 15 arrests, including prominent campaigners from Maori sovereignty and environmental groups.
The operation was continuing last night.
Police refused to reveal operational details, but said the raids were the culmination of more than a year of surveillance.
Search and arrest warrants were executed by police – including a crack anti-terrorism unit known as the Special Tactics Group – in Auckland, the Bay of Plenty and Wellington.
Police visited several properties in Christchurch, but no arrests were made.
Maori activist Tame Iti was among those charged in the Rotorua District Court.
"The last time I saw Tame, he was spreadeagled on the concrete with a gun at his head and a dog in his face," Iti's partner said yesterday.
The Maori Party MP for Waiariki, Te Ururoa Flavell, accused police of placing a community in his electorate "under siege".
He said heavily armed officers had searched school buses and arrested men in front of their children.
"Maori families in my electorate feel unduly harassed by the number of search warrants imposed, the charges laid and the intimidation they believe they have experienced," Flavell said.
When the Terrorism Suppression Act came into law in 2002, Maori feared it was only a matter of time before it was used against them, he said.
"The key issue for all the families I represent is, how reliable is the evidence?" he said.
Some of those arrested were granted name suppression.
They faced arms charges for allegedly possessing military-style weapons and molotov cocktails.
Police said they may eventually be charged under the act.
Police Commissioner Howard Broad said he had ordered the raids because of a threat to public safety.
"I believe the action we have taken today significantly reduces the risk that was evident," he said.
"I believe that any risk is now very minor."
Surveillance had shown that those attending the camps were training for military-style activities and had a range of motivations and ethnicities, he said.
"This was domestically oriented. I don't have evidence that there is any international connection to this," he said.
Broad said surveillance had begun towards the end of last year before the camps were established, and police let the groups progress with plans until the risk was deemed too great.
The group was understood to have conducted a practice detonation of a "napalm bomb" just over a week ago, media reports said.
Broad indicated police had kept tabs on those who graduated from the camps.
"In terms of our oversight of what has been going on, we are aware of where the people have progressed to. I'm reasonably confident that we know what this group has been doing.
"I think the issue of concern is we've got these training camps that have been active in New Zealand. That does elevate this to a level of concern about this sort of thing that we have not had in the past."
Police are understood to have recordings from bugged conversations, video surveillance and cellphone calls and texts.
A secret government group known as the Officials Committee for Domestic and External Security Co-ordination (ODESC) has been involved in the operation.
It comprises the chief executives of the Ministry of Foreign Affairs and Trade, the Defence Force, the Ministry of Defence, the Security Intelligence Service, the Government Communications Security Bureau, police, the Ministry of Civil Defence and Emergency Management, the Treasury and others.
The head of the Prime Minister's Department, Maarten Wevers, heads the group.
Prime Minister Helen Clark said she and senior ministers had been briefed last week, but she refused to comment on whether threats had been made against her or other politicians.
Asked if she was surprised when police told her about the militant group and camps, Clark said: "Yes and no – surprised at the scale and numbers of people involved."
The idea of military-style camps was "odd, to say the least".
"Police obviously believe there was enough information to move on," she said.
Broad indicated police were expecting a backlash.
"Today's enforcement action will engender debate in the community. Given our responsibilities, the New Zealand Police will necessarily be constrained in their contribution to that debate," he said.
"In due course, though, the full facts will be placed before the courts, and answers to many questions you no doubt have will be fully evident."
Greenpeace New Zealand said it had no involvement with or knowledge of the alleged activities.
"Greenpeace is an organisation with a long and proud history of non-violence," campaign director Carmen Gravatt said.
New Zealand First law and order spokesman Ron Mark said he sensed "a strong smell of involvement by our established criminal gangs" in the training camps.
Mark said if links were proven, the Government would have no choice but to broaden anti-terrorism laws to outlaw gangs.