Anger mounts at police terror op
Tame Iti's nephew appears in court - Stuff.co.nz | Friday, 19 October 2007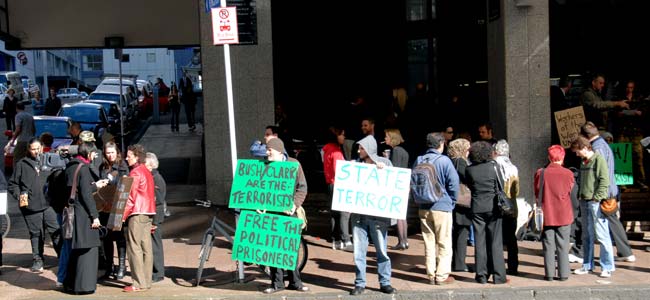 MICHAEL FIELD/Fairfax Media
Anger at this week's anti-terrorism raids is mounting across the country with a hikoi in Whakatane and protests in Auckland and Wellington.


View video from Auckland ...

View video from Wellington
Man claims training camps were for upskilling
Your say
Up to 1000 people joined the hikoi, stopping outside Whakatane's police station where a mass of children gave a rousing haka.
Rawiri Kiyomi Iti, 29, of Hamilton, this afternoon appeared in the Auckland District court on six charges where his application for bail was denied by Judge Josephine Bouchier.
Iti is the nephew of Tuhoe activist Tame Iti, who also faces charges in relation to the police raids.
Judge Bouchier suppressed all evidence by Mr Sutcliffe and police prosecutor David Johnstone and also suppressed the reasons for denying bail.
Iti was remanded in custody until November 2.
Only one of the six other suspects Iti appeared with was granted name suppression but the decisions are to be appealed. The six were remanded in custody to reappear on November 1.
Outside the Auckland District Court, about 30 people - including former hostage in Iraq Harmeet Sooden - rallied to support seven suspects. They carried placards saying "Free our friends of the anti-terror laws" and "Defend Maori activists".
Name suppression was lifted on two of the accused but the decisions are to be appealed.
It was also indicated in court that the police commissioner was likely to decide by the end of next week whether he would seek to lay charges under the Terrorism Suppression Act.
In Wellington, about 100 protesters gathered outside the district court for the appearance of four accused.
About 40 supporters had gone into the courtroom where the quartet were due to appear, but were sent out by the judge because the applications were being heard in closed court.
Among the group that came into court four people were wearing t-shirts each with a word that spelled out the sentence "I Love U S" (I love Yous).
Protesters outside the court were holding signs saying, "Activism is not terrorism" and "Police State Hate".
There was a strong police presence at the court, but so far the gathering has been peaceful.
Speeches included messages of support for the arrested people, spoken in Maori and English.
Meanwhile, in an emotional speech to the Whakatane hikoi, a bus driver has told how he feared for his life when his bus taking children to their kohanga reo on Monday was stopped and boarded by armed police.
The hikoi was organised by locals unhappy about distress caused to kohanga reo pupils, who they say were terrified by police entering the bus during the operation.
Police Minister Annette King and Education Minister Steve Maharey have both said they were told the armed offenders squad did not enter the bus.
The driver said his bus was boarded by an officer with a gun and he was petrified.
He said all he could think about were incidents such as the fatal shooting of a man in Christchurch by police after they were threatened by him with a hammer.
He said he had no idea what police were capable of, and only imagined what terror the children felt.
Police watched the hikoi from the steps of the police station, surrounded by children in Ruatoki School uniforms who carried out the haka.
- with NZPA