Action Alerts | PMA's newsletter | What's on | Links | How PMA can help you
Help PMA grow | Petition forms | Site map | PMA main page

Photographs of one of the Wellington protests
---
29 March 1999 - Peace Movement Aotearoa, Magdalena Aotearoa and the International Women's Performance Festival join together with people of Yugoslavian descent living in Wellington to vigil outside the US Embassy. After the speech of Kathy Randels, US citizen, condemning the bombing, the crowd of more than 100 stood in silence for fifteen minutes, holding candles and flowers. Women in Black sang to the governments of the world, while the men stood in the background, draped in black cloth, in silent support. The vigil ended with people laying flowers and candles at the gates of the US embassy.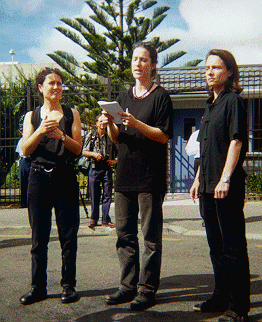 Kathy Randels, centre, reading her statement, support by fellow Dah Teatar member Jadrenka Andjelic, right and artistic collabarator Antonella Diana, left.
Return to Diary of Protests in Wellington.