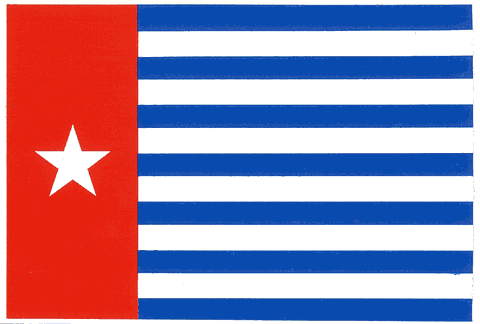 Thankyou Bishop John H Etheridge
The following is dedicated to the memory of those who names appear here and to the many who vanished without record while fighting for West Papuan Freedom:-Rest in Peace.
THE WEST PAPUAN CASE -HUMAN RIGHTS ABUSES
Ever since the Indonesians set foot on Papuan soil, human rights abuses have been the rule of the day. In the antiquity or the dream time, the Indonesian quest had been Papuan slaves and the birds of paradise. Since 1962 however the quest has been for the rich mineral deposits [gold, copper, nickel, oil etc.], the vast virgin forest with its timber and the 'empty' land. The West Papuans have had to be removed from their land by hook or by crook. Political prisoners and detainees in Irian Jaya continue to be subjected to ill treatment and torture by police and military authorities, particularly in the early stages of their detention. Indonesian security forces have also been responsible for the extrajudicial execution and 'disappearances' of suspected OPM activists and sympathizers both in Irian Jaya and Papua New Guinea.

AN INTRODUCTION TO THE GENOCIDE

Dr. Kees Lagerberg reported that an estimated 300,000 people had disappeared without trace. This is an awful lot of people in anybody's language, but it is more horrific if one considers that the estimated population of the territory was about 700,000 in the early 1960, and about one million in the 1980's, when Dr. Lagerberg made the claim. Thus 30% of the population has simply vanished from the face of this earth. A small portion of this could be explained, the aerial bombardment claimed 80,000 lives, exile and refugees at its highest [ 1984-1985] totaled 13,000, known massacres 13,000, that totals roughly 106,000. So, where did the remainder go? If one looks at the abysmal level of health care system for the rural population, the disease statistics meager though they are, one could not help but conclude that this population is rapidly declining directly or indirectly, as the result of Government policies, therefore man made policies. At the start of the accession to power in the territory, the [Indonesian] Government Policy was to eliminate all politically literate and educated West Papuan elite, because she feared that their presence will hamper the process of Indonisation. [see the "isolated" murders, and disappearances]. The Government's Family Planning Program which stresses the policy of smaller family size also spells disaster for this Melanesian race. Therefore there is an element of urgency to stem this decline lest this ethnic Melanesian race may not survive beyond the first two decades of next century.

In this account we will list as many accounts of killings and massacres as known to us. This list is by no means complete. It is constructed from many and varied sources: published works [Books, Newspapers, Journals], verbal and written accounts and reports from relatives and friends of the victims and general observers living on the spot or itinerant travelers through the territory, during the past 30 years.

We will attempt as much as possible to verify information filtered to us from these sources. Many informants do not wish their names be quoted and that we will respect at all times. Excluded from this list are those killed in Armed Conflict with the Military, in other words a Papuan shot dead while holding an offensive weapon be it a bow and arrow, a spear or firearm. This distinction is important because Indonesian soldier, cruel though he might be, is entitled to self defence.

Further the list will distinguish those killed during aerial bombardment and machine gun strafings, [the death toll of which are impossible to ascertain with any accuracy], massacre by ground troops, [in some massacres body count is impossible, but where this is possible it will be given, when names are given, they will be listed], individual killings and deaths in police/security custody and disappearance without trace, will be reported as accurately as possible.

The worse form of Genocide for which no evidence could be produced against the State of Indonesia, namely the neglect of health services causing increased deaths from preventable diseases, forced translocations of people, e.g. from the highlands to coastal area, where the highlanders being non-immune to malaria succumb en mass to cerebral malaria [the particular case of Amunge people of Akimuka in the Free Port Mining site], or from fertile arable land to less fertile and or unarable land, resulting in periods of gross famine when minimal weather changes occur.

Some of the killings will be described in their gory details, to illustrate that this is not a responsible and humane government, she pretends to be. But a brutal, repressive colonial Government.

To keep this document as short as possible, only one or two reports will be quoted in full.

2. THE AERIAL BOMBARDMENT.
The Aerial bombardment was, directed at the most densely populated areas namely the Highlands of Baliem, [valley], Paniai and Wissel lake district, the Arfak mountains [the hinterland of Manokwari] and the Ayamaru lake district. The bombardments extract maximum toll from the population, for they kill in 3 ways. First the immediate impact of the bombs and shrapnel killing some of the people instantly or die later from the sustained wounds. Second, the devastation of village live-stocks and gardens, causing deaths from starvation, malnutrition and infection. And last, deaths of parents or able bodied men and women, resulting in slower and perhaps incomplete re-establishment of the village subsistence, causing more deaths from starvation and infections.

This is Indonesia's way of settling disputes/complaints by the Indigenous tribesmen against Indonesian soldiers who trampled their gardens or abused their elders and women.

2.1: APRIL 1969, WISSEL LAKE DISTRICT [PANIAI AND ENAROTALI AREA].
The area was bombarded as a prelude to the Purapura Act. Indonesia used U.S. made and supplied planes, including B26 [Mitchell] bombers and the counter insurgency plane UV 10 Bronco. Plane no. 267 was flown by a Capt. Harsono. An estimated 14,000 Papuans fled into the bush. [In Robin Osborne's 'Indonesia's secret war' p32].

2.2: "PANIAI REVOLT 2"
This resulted from heavy handed manner in which Indonesian officials tried to get the people to select representatives to the Purapura Act. Apparently the people had selected, "unsuitable" representatives [unsuitable to the Indonesian Government's criteria], and were told to select a new group of deputies. The people objected to this, resulting in Indonesian military retaliation by bombing the villages. [The reader should consult Indonesia's official report to the Secretary General; U.N. Publication A/7723, 6 November, 1969]. The number of people killed or injured was not known.

2.3 ARFAK MOUNTAINS. 1966-1967.

2.4 AYAMARU AND TEMINABUAN AREA 1967 JANUARY 17 - MARCH 29.

2.5 AKIMUGA/FREE PORT MINING AREA 1977.

2.6 BALIEM VALLEY 1977-78

2.7 VILLAGE OF NAGASAWA/ORMO KECIL
The village situated at the Northern foot of 5000 ft. [2000m] Cyclop Massif, was shelled and strafed from the sea and air respectively around the beginning of July, 1984. There was no escape for the villagers, because the sea, their only escape route, was blocked by the Naval gun boats. Most of the villagers were dead or dying when the ground troops moved in to complete the massacre. A total of 200 men, women and children were reported slaughtered like animals. Two women who were some distant away from the village could only watch horror stricken. They were the only survivors. They later escaped to Vanimo in Papua New Guinea to tell the gruesome story. [W.P.O. 8 (1984/1985) 3, 4:4].

2.8 VILLAGES OF TARONTA, TAKAR AND MASI-MASI.
These villagers all in the Pantai Timur district of Sarmi were also shelled from the sea. The death toll of these bombardments are not known, but the villages of Taronta and Takar are fairly large for coastal standards. During the Dutch period in the 1950 each of them had 1500 and 2000 people. The survivors have deserted the villages and are known to be living in and around Jayapura. The reason for the bombing is not known.

3. THE MASSACRES


3.1: Henk de Mari gave an account of 55 men from two villages in North Biak who were taken to empty land between the two villages and forced to dig a big hole in the ground. They were then shot dead and the bodies fell into the hole. June 1971 was given as the time of the incident. The names of the villages nor of the victims were not mentioned. The original report was by Henk de Mari, who visited the area and written to Dutch daily De Telegraaf on 11th, 12th, and 19th October 1974.

3.2: NORTH BIAK. MAY 1970.
The massacre of mainly women and children. One woman named Maria Bonsapia, pregnant at the time was shot dead and her abdomen ripped open with bayonet and the unborn foetus cut out of the womb and dissected on the spot. When Maria's sister protested, she was pack-raped and later shot dead. The murderers were from ABRI's Udayana Division.

3.3: LEREH DISTRICT, SOUTH WEST OF SENTAIN INTERNATIONAL AIRPORT.
500 villagers were found massacred and their bodies left to rot in the jungle. Dates nor names of the victims were given.

3.4: NORTH BIAK, BUSDORI, KRISDORI AND AMPOMBUKOR VILLAGES IN 1974, TOTAL 45 PEOPLE KILLED.
A total of 45 people were murdered. They were; Eduard Mambenar aged 20, Everdina Pariaribo [f] age 45, Esevus Dawan 10, Julianus Dawan 45, Ferdinand Kmur 42, Julianus Kmur 30, Kaleb Kmur 50, Martinus Kmur 22, Gerzon Kmur 15, Robert Kmur 30, Benjamin Kmur 32, Alfrida Kmur-Bonsapia [f] 20, Jonas Kmur 30, Sefnat Kmur 25, Semuel Kmur 18, Eduard Dimara 20, Darius Kararbo 23, Lodewijk Rumbrapuk 50, Frederik Rumbrapuk 45, Alex Nab 35, Mateus Nab 17, Amos Opiaref 15, Derek Kararbo 40, Josias Kararbo 32, Kristian Kararbo 30, Nicolaas Kararbo 44, Gerard Kararbo 40, Arie Kararbo 13, freddy Manggaprouw 16, Karel Ab 35, Terjanus Ab 25, Adolof Ab 18, Laurens Ab 20, Stefanus Ai 19, Josef Ai 60, Jaconias Mofu 30, Carlos Mofu 17, Jacomina Meosido [f] 40, Jesaja Adadikam 50, Nathanael Awom 53, Ananias Awom 31, Arie Bonkoibo 12, Lea Korwa [f] 50, Alexander Bonsapia 25, Dolfinus Parkah 24.

The exact date of massacre is not given by West Papua Courier, but the year was 1974. Note that the same villages had been visited before by the military [3.1 above] and because of the inclusions of women and children in the West Papua Courier's account, we must assume that the two reports related to, were of two different events. The total death toll therefore is 121. [report from West Papua Courier 3 (1980) 3:10., Tapol's West Papua: el Mnuvom 55**, Konstantein Mnuro 35**, Mina Awendu [f] 20**, Peresina Awndu 16 [student]**. The names of 20 other victims from Makuker and Workrar villages are not given, Total numbers of deaths 41 people. [West Papua Courier 3(1980) 3:11]

3.5: THE FOLLOWING PEOPLE FROM ARWAM [*] AND RUMBIN [**] VILLAGES ALSO ON BIAK ISLAND WAS MASSACRED IN 1975: [TOTAL 41 PEOPLE].
Adolf Arwam age 40 years[*], Dirk Arwam 50*, Demianus Arwam 40*, Barnabas Arwam 50*, Johanenes Arwam 30*, Jonas Awendu 30*, Josias Awndu 25*, Joas Kmur 8 [school boy]*, Amon workrar 55*, Jonas Workrar 12 [school boy]*, Atris Workrar 18 [student]*, Pince Workrar 16 [student]*, Nabot Rumbrawer 50**, Amon Obaya 35**, Jan Mandibo 40**, Speni

3.6 DOSAI DISTRICT JAYAPURA. 6 PEOPLE.
The bodies of 6 persons were discovered on April 4, 1978. They had apparently been shot. Identification of the bodies were not possible.

3.7 MAY 1978 AT TIOM STATION DISTRICT TIOM, JAYAWIJAYA REGION; TOTAL 125 PEOPLE.
125 people were massacred by machine gun fire for alleged collaboration with OPM. Names of the victims were not given. The names of the 5 leaders who surrendered to save the villagers were beaten with red hot iron bars, then deliberately and repeatedly stabbed to death with red hot iron rods.

The names of the 5 victims were; Labang Wenda, Kaleb Wenda, We Wanibo, Wanengen Wanibo, and Piranggen Wakerkwa. Their bodies were put in bags and dumped into pit latrine. The operation was carried out by ABRI unit 752,753 and Kodim Wamena. Witness: Sariname Tabuni, Enos Wanimbo, Pontius Jikwa, and the residents of Tiom station. [source report by N. Ipo Hou, June 30, 1989 and also included in section on "Gangland style killing" vide infra].

3.8 NORTH BIAK TOTAL 12 PEOPLE.
Date and name of the village are not given. Incident. 12 people [men, women and children] left the village and went to camp in the bush to collect sago for a village feast. They had obtained prior permission from the appropriate Indonesian authority for their absence from the village. A passing Indonesian patrol stumbled upon the sago gatherers and proceeded by mowing them down with machine gun without warning. The massacre was discovered only when the stench of the rotting bodies brought a hunter to the site of the massacre. The name of the village and the date had been withheld at the request of the living relatives for fear of Indonesian reprisals.

3.9 OPERASI TUMPAS [AYAMARU, TEMINABUAN AND INANUATAN. NUMBER OF VICTIMS NOT KNOWN.
Massacres in Ayamaru, Teminabuan and Inanuatan under the code name of Operasi Tumpas, [operation obliteration], in 1967, caused over 1500 loss of lives. Exact number and locations of the massacres were not given.

3. 10 JAYAPURA REGION: TOTAL 14 PEOPLE.
At post 7, West of Sentani International Airport, the bodies of 14 persons were discovered on June 16, 1978. They had apparently been shot dead. Identification were not possible.

3.11 BABUMA VILLAGE KELILA DISTRICT JAYAWIJAYA JUNE 28, 1978. 6 WOMEN.
6 women from Babuma village, Kelila district were isolated and accused of collaborating with OPM. There were: Banduk Thago, Pani Pagawak, Nerak Makna, Yabena Thago, Etina Thago, and Abpisa Thago. They were packed raped first before being shot dead. Their abdomens were then ripped open, and the vaginas stuffed with sweet potato leaves and red berries. The bodies were never retrieved for proper burials. The murderers were ABRI units and Kodim Wamena under the leadership of Colonel Albert Dieng. Eye witness were: Rawa Thago, Warren Thago, Yembena Owar, and Obagi Thago. [source report by N. Ipo Hou, june 30, 1978].

3.12 MERAUKE, JULY 20, 1978. 122 PEOPLE.
Incident - 122 people [116 men and 6 women], for one reason or another, fled into the jungle. The ABRI's "red beret" went after them and caught all of them. Their hands and feet were tied, they were then shoved into suitably weighted copra bags and dumped in the sea. They drowned like rats. Relatives refused to reveal the names of the victims for fear of reprisals.

3.13. AMPAS WARIS JAYAPURA REGION, 1981. [no figure given for the victims].
The "Operasi Sapuh bersih" or "Clean sweep operation". In June, July and August 1981, the villages of Ampas-Waris, and Batte-Arso were attacked and whole families were bayoneted to death. Their bodies were left to rot on the spot. [West Papua: Obliteration of a people 1983: 74 & 75]

3.14 THE PANIAI REGION, 1981. TOTAL 68 PEOPLE.
68 people killed and 58 people disappeared without trace. [WPC 10 March (1988) 1:3]. No names were given.

3.15 KUDAI AND KEDAPAI BALIEM? TOTAL 27 PEOPLE.
The following clans lost some of their members killed by the ABRI. Kudai clan 2 people, Kadapa 3, Jogi 4, Mujepa 5, Nawipa 11 and Adii 2. The bodies of the victims were discovered rotting in the bushes. The remains of the 30 others have never been discovered.

3.16 CENTRAL HIGHLANDS. [period from September to December 1981]. TOTAL 13,000 PEOPLE.
An estimated 13,000 people were killed in the central highlands [idem :75]. Names and exact locations not given.

One of the slogans of clean sweep operation is "Biar tikus lari kehutan, asal ayam piara dikandang", or "let the rats run into the jungle so that chicken can breed in the coop". This slogan means that "Let the Papuans run into the bush, so that their land can be given to the in-coming transmigration".

3.17 PANIAI WISSEL LAKE DISTRICT, MID 1985 : TOTAL 2500 PEOPLE.
2500 people were killed in the Paniai area of the Wissel lake district. From Iwandoga and Kugapa villages 115 people were massacred by Indonesian soldiers on 24 June, 1985.

From Epomani village in Obano Sub-district 10 people were massacred on July 2, 1985. The military also destroyed the village, the gardens and village live-stock.

Ikopo village Monemane district 15 people were killed, and village burned down with live-stock and all, on July 6, 1985.

Monemane village 517 were massacred, 12 villages destroyed including food gardens and village live-stock.

3.18 IN JAYAPURA AREA A TOTAL OF 1001 PEOPLE.
Sre-sre village 500 dead.

Lereh village 346 dead.

In Genjem, Abepura, Waris and Sentani a total of 155 were reported dead.

3.19 TAPOL QUOTING ELIEZER JAN BONAYT [first Governor of Indonesian Irian Jaya] AS SAYING BETWEEN 1963 AND 1969, 30,000 PAPUANS HAD BEEN MURDERED.
[Tapol bulletin no. 48 (Nov. 1981):...., idem no. 51. (May 1982):....& West Papua. The Obliteration of a people (1983): 72] There is no way this figure can be verified. [Mr. E. J. Bonay is now dead, eds.]

3.20 IN PANIAI/WISSEL LAKE DISTRICT DURING 1986-87 THE FOLLOWING 34 PERSONS WERE SHOT DEAD.
It is no known whether this is collective massacre or isolated incidences: Cornelis Jogi, Jan Nawipa, Degemabi Jogi, Wise Nawipa, Widigi Degei, wife of Widigi Degei [f], Imowatuma Ogetai, Wim Tobai, Jafeth Keija, Kaleb Djouw, Paulus Wenda, Wim Gobai, Jacobus Adii, Jakomina Bunai [f], Matias Mote and Vitalis Dogomo. [idem p.4]

Further the following clans lost some of their members: Magi 2 people, Gobai 3, Mote 2, Tekege 1, Tatago 3, Djouw 1, Dejeino 2, Kajame 2, Pigai 1; a total of 17 people. [report from these atrocities was supplied to WPC by the O.P.M. Secretariat of the 1v [Paniai] Regional Command].

3.21 FREEPORT MINE JUNE-JULY 1994-1995, 5 PEOPLE.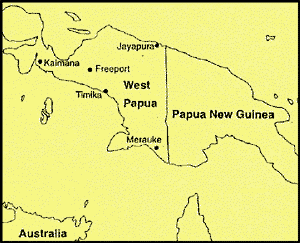 Between June 1994 and February 1995 some clashes took place between the land owners, the ABRI, the Security Personnel of the mine and an OMP unit. The root cause of the altercation is uncertain, but based on the report that landed at the ACFOA [Australian Council of Overseas Aid] the problem arose out of the people grievances towards the destruction of their habitat, their livelihood and constant intimidation by the Security forces, Government as well as the Mine's. The Indonesian Military and the Mine's spokesman insisted that the fermenting of these grievances was organized by the OPM unit under the command of Kelly Kwalik. Who started it and how it started is immaterial here, what is of direct relevant in this chapter is that some civilians were murdered collectively and singly. How the actual killing took place was unclear in many of the cases. The report documented 16 men actually murdered and 6 disappeared without trace, but the eyewitness believed the number of civilian victims may be higher. Contrasting this report with reports in the local News Papers Tifa Irian [weekly, week 4 August 1995] and Cendrawasi Pos Thursday 31, August 1995, the Indonesian Military had shifted the blame to OPM for planting the Anti Indonesian sentiment in the minds of the people and that ABRI was only trying to protect the people. [some kind of protection all right, Eds.]

In November 5 members of Kelly Kwalik's clan were rounded-up by the ABRI and murdered. Their bodies have never been found.

7. Ambrosius Kwalik.
8. Davianus Kwalik [also entered as Sebastianus Kwalik by Bishop Munninghoff].
9. Romulus Kwalik.
10. Marius Kwalik.
11. Hosea Kwalik.

They were arrested on the night of October 6, 1994 and last seen by the wives of Sebastian Kwalik in mid November 1994. When the wives, Nawarkal deik-in and Maria Katagam-in, went to visit their husband they were told that 'your husband and the army Units are out on operation in Oenomon area, you can go and see, the containers are empty'. The women checked the containers [apparently at Free Port mine standard metal shipping containers are used as detention cells for the West Papuans.]

[Wednesday] May 31, 1995:
Soldiers from 752 Trikora battalion, stationed at Paniai security post Jila 90 km east of Tembagaoura, opened fire on a Kingmi Protestant Church congregation of Amungme tribesmen from Hoea village killing 11 of them. The soldiers were led by Sergeant Marjaka.

The people were meeting as a church congregation to discuss who would and who would not like to return to government [controlled area]. At the time the soldiers opened fire, the group was being led in prayer by Rev. Martinus Kibak, thanking God and beseeching His blessing and guidance for the troubled and uncertain future.

The people were surrounded and without warning the soldiers opened fire. Rev. Kibak was shot in the left side of the abdomen with his arms raised in surrender. Titus Kobogou pulled the trigger on command by Sergeant Marjaka. Rev. Kibak died instantly.

The full list of the massacre:
1. Theo Amokwme [m/35]
2. Martins Dekme [m/40]
3. Paulus Dekme [m/40]
4. Ismael Dekme [m/6]
5. Maria Alomang [f/22]
6. Markus Alomang [m/26]
7. Jiap Alomang [15]
8. Lina Alomang [f/5]
9. Anis Sugomol [14]
10.Albert Sugumol [m/23]
11.Rev. Martinus Kibak [40]

[source report by Bishop of Jayapura, Mgr. H. F. M. Munninghoff OFM, dated August 3, 1995]

[Kelly Kwalik was later to feature prominently in the hostage drama of Europeans at the end of 1995 and beginning of 1996. eds.]

11.3 DIED IN CUSTODY WITH OR WITHOUT REPORT OF TORTURE.
Bodies of persons who had died whilst in police or security forces' custody were not normally subjected to post mortem examination, nor were there any coronerial inquests.

Soleman Nukoboy, patrol officer from Lake Sentani. Died in prison, said from TB, but others disputed it. The body was buried, without notifying the family, who discovered his death during routine visits.

3.6 PANIAI.
1. David Pekey deputy speaker of DPRD Kebuten Paniai 1967 [date to be supplied]

2. Senin Mote Senior police sergeant commanding Moanemani district, ex-Papua Battalion in World War 11.

3.7 1981-1984 DIED FOLLOWING TORTURE:
Isack Bunai, his body was pricked with needles till he died; Robby Jogi, hanged by his feet, while his whole body was sliced open with razor blades [vivisection], till death; Julius Bunai, Jantje Jogi and Jonas Jogi all three were tortured by having red hot iron rods thrust up their anuses, ears and nostrils. Total number of victims was 68 persons dead. [WPC 10 (March 1988) 1:3]

3.8 DIED FOLLOWING TORTURE:
Tobias Degei, Junus Degei, Johanes Naipa and Jan Gobai. Paniai Wissel Lake district 1984-85. Form of torture: over a period of two days their whole bodies were slowly sliced open with razor blades, a virtual vivisection. The victims die a slow painful death.

The remains of 20 other people arrested at the same time as the 5 above were never found. [WPC 10 (March 1988) 1:4].

3.9 ASER DEMOTOKAY FROM GENJEM/NIMBORAN DISTRICT, JAYAPURA REGION. He died a few days after being arrested. Apparently died from torture, he was in his 60 or 70's. His son Martinus Demotokay died in Jakarta on 22 September, 1983, presumed assassinated by poisoning. [WPO Vol.7 (1983/84) 5/6:4].

3.10 Titus Dansidan retired civil servant, arrested on October 25, 1983. He died in prison , exact details not known. Presumably as a result of torture. idem.

3.11 Dr. Thomas Wapai Wainggai died in March 1996. He was suspicious that the prison food he was eating contained small amounts of poison so refused to eat prison food. He ate food brought in from out side. When he got sick he requested to be brought to a Christian Hospital, instead he was sent prison hospital then later to a military hospital where he died. Post mortem examination done and witnessed by an International Red Cross doctor concluded that he had died of natural causes. The exact natural cause was not mentioned. [These Editors are skeptical of the report as it did not mention toxicological analyses of hair, blood and liver tissues for common heavy metals and other toxins].

11.4 DEATHS UNDER SUSPICIOUS CIRCUMSTANCES.
Lucas Yakadewa Police Inspector February 20, 1967. He felt sick and went to hospital for treatment, where he stayed for 3 days. He was released from hospital but died 3 hours after reaching home. Alleged to have been poisoned at the hospital. His face was swollen and began to decompose 3 hours after death.

Rev. Willem Giyai ran over/rammed by an Army truck in Jayapura 1965.

Jacob Morimizendi, 32, Customs Official; run over by car in Pandang, West Sumatra.

1. Nicholas Tanggahma 1975/?74. Former member of the New Guinea Council and member of Indonesian Parliament [MPRS] died in Manokwari. He was found dead in his hotel room, shortly before going to a Government organization reception. He was thought to have been poisoned.

2. Rev. Janis Mamoribo. Protestant clergy, ex-Governor of the Province. He was found dead in his hotel room in Jakarta in September 1976. Alleged to have been poisoned.

3. Ferdinandus Tekege. Member of DPRG Propinsi Irian Jaya, 1984? Found dead in his office after drinking poisoned tea.

4. Aloysius Gobay. Secretary for Finance Irian Jaya Province. Died in the office, again after allegedly having drunk some tea.

5. Silas Papare, February 19, 1979. Ardent supporter of Indonesian Independence, but prior to his death had reneged on the earlier promises made to President Sukarno. Felt unwell and went to hospital in Jakarta, where he died. His wife was told several days later that he had died. No cause of death was established.

6. Rev. Jacob Rumainum. First Chairman of the Evangelical Church of West Papua, died a few days before being appointed Governor of the Province. He had drunk tea with another Protestant clergy, a man from Sumatra.

7. Peter Burwos. Police Inspector, went to a party came back went to bed and never woke up. Presumably poisoned.

8. Jaconias 'Jack' Dedda died, cause?

9. Martinus Demotokai, Jakarta September 1983. Presumed poisoning.

11.5 GANGLAND STYLE EXECUTIONS AND WILLFUL MURDERS. 1. Permenas Joku. December 19, 1963. He left the village party in the company of a military officer around midnight of December 18/19. His body with badly mutilated genitalia and a bullet hole behind right ear was found in a stream on the outskirts of Sentani Airport. [reported by James A. Joku a nephew of the deceased, at the South Pacific Human Right Tribunal in Port Moresby, in May 1981]. No eye witness of the actual murder, nor were there any confessions.

2. Eli Uyo. October 14th 1966. In Jayapura market. Mr. Uyo a traditional Chief of the Skou villages, had gone into the market to complain about the severe beating by the military of some youths in the streets of Jayapura. The response of the military officer in the restaurant was to shoot Mr. Uyo at point blank range. Mortally wounded he wrenched the weapon from the hands of the Indonesian officer and shot him and the other Indonesian soldiers with him.

3. Mr. Abraham van Leuven, Dutch Eurasian [Dutch Indonesian mixed blood] and senior police commander for Jayawijaya region, shot dead outside his home in Jayapura 1968. He was too 'pro-Papuan Independence'.

4. Demianus Yakademwa police officer 1966.

5. Otniel Safkaur, 1967. Secondary school headmaster, put on a canoe and told to push off shore, then gunned down by machine gun fire.

6. Prisoners were taken out of Teminabuan prison in the middle of the night and driven on the Highway towards Ayamaru. A few miles out of town near a bridge, the truck stopped and they were ordered to get out and stand against a bridge. They were machine gunned down. One of the victims, Johan Jelmau, managed to duck the bullets and roll off the bridge. Though mortally wounded, and with his intestines virtually out of his abdomen he managed to get back to his mother's house in Teminabuan, were he lived long enough to recount the story and indicated where his friends bodies could be found, before he died in his mother's arms. [Johan's older brother Marthin was to disappear without trace a few months later].

The names of the victims were:
6. Adam Korem, 17 January 1967 [idem]
7. Johan Jelmau 17 January 1967 [idem]
8. Christian Karet, 17 January 1967 [idem]
9. Otniel Isir, 17 January 1967 [idem]
10.Arnold Gebse 17 January, 1967 [idem] (source W.P.O. check date etc.)
11. Johan Kareth? 17 February 1967.

On the morning of February 1st. 1967, 4 prisoners were taken out of their cells in Kaimana township on the Northern shores of gulf of ..... and driven to the out skirts of the town. There they were instructed to dig holes on the ground. After about an hour when the digging was completed, the prisoners were asked if they have anything to say and the oldest among them said they want to pray and sing a hymn. They knew they were going to be executed. After the hymn and final prayer, they hugged each other and readied themselves to face the firing squad. Death was swift and final. All 4 of them fell into the graves that they had just dug. The men were arrested at Teminabuan, but because of the tense situation between the ABRI and the people, [arising from John Jelmau and his friends' execution] these 4 were segregated for execution and were transported to Kaimana, some 200 kilometers away by sea.

The 4 men were:
12. Saul Blet February 1, 1967, [idem]
13. Saul Karet executed at the time as Saul Blet. [idem]
14. Matheus Salosa, Regional Head of Public Works Department [idem] at Taminabuan, Ayamaru district, February 1, 1967.
15. Albert Saflembolo, Matheus Salosa's deputy, February 1.
16. Agustinus Nubely in Ayamaru, 13 February 1967, shot dead 1967 [idem]
17. Marthin Aury executed 16 February 1967 [id. op. cit]
18. Adam Nusi executed 16 February 1967 [idem]
19. Lodewijk Kendewara executed February 1967 [idem]
20. Adam Kamdeara 20 February, 1967 [idem]
21. Elias Kambuaya 20 February, 1967 [idem]
22. Asmuruf

23. Dekenyap a police inspector, he was ambushed on his way to the garden and shot dead.

23. Naftaly Tabuni, 26-4.1977. [village clan chief] of Piramid, in Kembin district of Jayawijaya region, accused of collaboration with OPM by the military. He was burned alive, the remains was later butchered and fed to the police dogs. The incident was witnessed by the people of Piramid, including Mathias Wenda, Lukas Tabuni, Tadius Tabuni and Paulus Tabuni. The act was carried out by members of military unit 753,752 in conjunction with the police, Koramil [area military command] and Kodim [military district command]. [source: report furnished by N. Ipo Hau, signed and dated at Markas Besar, OPM, June 30, 1989]

24. Sebulon Afar [no other information]

25. Momot [no other information]

26. Kondologe [no other information]

27. Julius Abisai [no other information]

28.Tigayak Tabuni, 26-4-1977, villager Piramid. He was murdered together with and in the manner as, Naftaly Tabuni. [source op. cit]

29. Kane Tabuni 26-4-1977, shot dead in front of Rev. Tandan's [an American Missionary] house at Piramid village. The body of Kane was split/butchered in the midline into two halves. The witnesses was publicly warned that the same will befall anyone found guilty of aiding the OPM. The murderers were from the same units as 6 above. Rev. Tandan also witnesses the incident. [source op.cit]

30. Paungen Wenda [male] 4-5-1977m from Tiom village, Tiom district of Jayawijaya region. His limbs were amputated and later beheaded. His head was slit into two halves, the torso was chopped up and thrown into rubbish heap. Witnesses: Pontius Jikwa, Lambert Wakur, Tewe Wanimbo, Enos Wanimbo and the Tiom Villagers.

31. Luther Kagoya, no date, 1977, Tiom village. His body was butchered into two. One half was thrown into the Baliem river and the other hoisted up in the middle of the village as a warning to those who collaborated with the OPM. Eye witnesses: Tewe Wanimbo, John Wakerkwa, Enos Wanimbo and Rev. Coudy an American National and Missionary. Murderers were unit 753,752, with BRIMOB [mobile brigade] and other 'mixed' units. [source op. cit]

32. Benengagaluk Tabuni, male, no date, 1977. Tiom village, Tiom District, Jayawijaya. The body was chopped-up, and disposed of at night, without trace. The killing was witnessed by James Kogoya, Yuly Wakerkwa, and residents of Tiom village. [source op. cit]

33. Pilanekwe Yanengga, 2 months female infant, no date given, killed at Tiom river, near Tiom village. The infant was separated from its mother during an ABRI [Indonesian Armed Forces] raid on the village. [source op. cit]

34. Kweanungwe Kogoya, nursing mother with an infant about 2 months old, no date, 1977, were apprehended by members of ABRI Units 751,752, and 753 at Tiom village and murdered. The eyes of the dead woman were gauged out and the little finger of the infant was severed as evidence to be shown to military top brass. The bodies were left on the spot as warning to others who might support the OPM. Eye witnesses: Paramount chief of Tiom and Tiom residents. [source op. cit]

35. Yordon Yanengga, no date, 1977, Tiom village, Tiom District. Shot dead by ABRI Units 751, 752 and other mixed Units. The victim's head was severed and split in the mid-line. The torso was dumped into a pit latrine. Eye witness: Roby Wakerkwa, Niko Wenda, and the residents of Tiom village. [source op. cit]

36. Arekwe Yuman, adult woman, no date, 1977, of Tiom village, Tiom District. She was pack-raped by ABRI Units 751,752,753 and Police units, and then shot dead. Her vagina was ripped open and filled up with raw pieces of sweet potato and clumps of soil and left to rot. Eye witness: Pontius Jikwa, James Kogoya, Yuli Wakerkwa and other residents of Tiom village.

37. Kendep Tabuni, 23-12-1977, of Tagime village, in Mulia District of Jayawijaya region, was shot dead during ABRI raid [Units 751,752,753, and other mixed Units]. The victim's chest was split open and the heart cut out as proof of operation tumpas.

The operation was lead by Major Albert Jin and witnessed by the villagers of Tagme. [source op. cit]

38. Mononggo Tabuni, 25-12-1977; Tagime village, Mulia District, Jayawijaya, shot dead then his head severed and split into two; the torso placed on charcoal embers. The ABRI Unit 752 and 753 under the leadership of Major Suryanto was responsible for this murder.

39. Athen Muni, 27-12-1877, at Tagime village Mulia District, Jayawijaya, shot dead and his chest ripped open and the heart cut out for proof of operation. The ABRI Unit 752 and 753 was under the command of Major Sarwan. Witnesses by the villagers who also removed the mutilated body for burial. [source op. cit]

40. Karlin Jikwa, 29-12-1977, at Tagime village, Mulia District, Jayawijaya. Shot dead with his mother. Age and name of the mother were not given. Karlin's head was severed and stuffed into the ripped-up abdomen of his lifeless mother. The murderers were from ABRI Units 751, 752, 753 and other mixed Units. Witnessed by the victims' father and husband, and the villagers. [source op. cit]

41. Mother of Karlin Jikwa, shot dead and her abdomen ripped open from chest right down to the vagina. [see 19 above]

42. Orbirik Tabuni, 30-12-1977, at Tagime village, Mulia District, Jayawijaya. Shot dead and [KENING MATA] his eye lids and eye brows were scalped for proof of operation. The body was then chopped-up and thrown into pig sty [KUMBANGAN BABI]. The murderers were combined Units of ABRI, Police and BRIMOB [mobile brigade] under the command of Captain Karwiya. [source op. cit. p5]

The following five people [ no. 43 - 47 ] were summarily executed in the Kelila Dental Clinic [Hospital], Kelila District, Jayawijaya, on New Years day 1978. The quintet had surrendered to the Authorities earlier. They were ordered to line up in the Clinic and gunned down in front of thousands of on-lookers as an object lesson for those contemplating disobeying military orders. The murderers were from ABRI Units 753, BRIMOB, Units from Hasanudin Division, and others. [source op. cit]

43. Yusuf Pagawak, 1-1-1978
44. Eringgo Pagawak, 1-1-1978
45.Erimbo Pagawak, 1-1-1978
46. Anthon Komba, 1-1-1978
47. Kelanggen Tabuni, 1-1-1978
48. Wanorakwe Tabuni, 5-1-1978, Tagime village, Mulia District Jayawijaya, shot dead. His chest was split open and the heart removed as proof of operation. The body was then cut up into strips just like preparing for corning pork. The murderers were ABRI Unit 752, 753, and Kopasanda. [source op. cit]

49. Jance Tabuni, 5-1-1978, Tagime village, Mulia District, shot dead, head severed and split open then thrown into a well. The headless torso was left where it had fallen. Murderers' Units 752, 753, and Kodim. [source op. cit]

50. Buangan Jikwa, 6-1-1978, in Dental Surgery of Kelila township, Kelila District, Jayawijaya. His fingers were chopped off then the whole body was sliced with razor blades, before he was shot dead and the body thrown into a ravine. He had surrendered earlier to the military [see also no.47 vida infra]. The murderers were ABRI Units 752, 753, Police, BRIMOB, Hansip, and members of Hassanudin Division. Eye-witness: Jnowurok Jikwa, Yonas Jikwa, Sonny Jikwa and the villagers of Kelila. [source op. cit. p6]

51. Lebart Jikwa, 6-1-1978. He was murdered at the same time, and place, in the same manner, and by the same murderers as Buangan Jikwa [no.50]. The same eye-witness saw the event.

52. Yakob Jikwa, 6-1-1978, Kelila village, Kelila District. Tortured for 3 days by slicing his body with razor blade, setting his hair on fire, before tying his hands and feet and thrown alive into a pit latrine. The psychopathic murderers were from ABRI Units 753, Kopasanda, Hasanudin, Police, BRIMOB and Hansip. The macabre act was witnessed by: Tiben Pagawak, Karlos Pagawak, Manding Ma'a and the residents of Kelila village. [source op. cit]

53. Minggus Jikwa, 7-1-1978, Tagime village, Mulia District, Jayawijaya, shot dead then the head was severed from the torso and taken for proof/trophy. The torso was burned to ashes. Murderers were ABRI Units 752, 753, Kopasanda, Police, BRIMOB, and other Units.

54. Lin Tabuni a nursing mother with 1 month old infant [son], from Mogonik village, Kelila District, was apprehended on 9-1-1978. She was packed-raped for several hours by the soldiers before they shot her. Her abdomen was ripped open from the end of the sternum down to the vagina. Her infant was killed and thrown inside the mother's abdominal cavity and left where the body fell. The murderers were from ABRI Units 752, 753, and other Units. The brutality was witnessed by: Bernard Gombo, Stefanus Gombo, and the residents of Mogonik village [source op. cit.]

55. Infant son of Lin Tabuni [see Lin Tabuni]

56. Mes Gambo, of Mogonik village, Kelila District, 9-1-1978. Shot dead, both hands were amputated and hung on a tree, while the body was thrown into a bog. Murderers were from ABRI Units 752, 753, and other mixed Units. The victims younger brothers, Bernard and Stefanus Gombo, were forced to witness the murder of their brother. [source op. cit]

57. Nas Wenda, January, no date, 1978, of Kobakma village, Bokondini District, [Wamena] shot dead'. The beard and lower lip was scalped for proof and trophy. The body was dumped in a fish pond. The murderers were ABRI Units from Patimura Division. Eye witnesses:: School teacher Y. Elaby, Mir Pagawak, and the villagers. [source op. cit.]

58. Yance Wenda [close friend of Nas Wenda] murdered by the same soldiers at the same place and time. The body was 'processed' in the same way.

59. Pinilek Wenda, Catechist and preacher, January no date, 1978, at Liruk Paga near Tagime village, Kelila District; his arms and legs were cut off and as he laid helpless his Bible was opened and tossed on to his limbless victim with sneering remarks, 'if you are a follower of Christ, make your body whole again'. He was then split in to two and thrown into a cave. The murderers were from ABRI Unit 752, 753, Police, Kodim Wamena, Patimura and Hasanudin [source op. cit.]

60. David Kenlak, January no date, 1978; was caught at Kelila Airstrip, Kelila District, and crucified on the spot. His body was then riddled with bullets that whole body except for the arms disintegrated into a pile of minced meat at the foot of the cross. The murderers were members of the Kopasanda Regiment and Kodim Wamena. Eye witness: Welly Togoly, Sagu Togoly and Lupas Karaba.

61. Mart Pagawak of Kobokma village, Bokondini District of Jayawijaya Region, March 10, 1978. He was arrested and tortured for 2 weeks, then taken out, tied on a post and stoned till near death, before being beheaded. The murderers were a combined Units of ABRI and Police. Eye witnesses were: the village school teacher, health workers of the Health Center and the villagers. [source op. cit.]

62. Gingin Polono, March no date 1978, at Gwagiyima near Kobakma village, Bokondini District, Jayawijaya, shot dead and the headless torso with one leg was left were it fell. The head and the severed leg could not be found. Witness: Sepat Polono. Yali Elaby and Sotan Pagawak. The murderers were ABRI Units from Wamena under the command of Colonel Albert Dieng.

125 people were summarily executed at Tiom village in May 1978, only the names of their 5 leaders are known. These 5 [no.63-67] were beaten with red hot iron bars, and stabbed to death with red hot iron rods, the bodied were then put into bags and dumped into a pit latrine.

The murderers were from ABRI Unit 752, 753, Kodim Wamena and other Units, under the command of Colonel Albert Dieng. Eye witness included the [foreign] missionary from Tiom with his family, Sariname Tubuni, Enos Wanimbo, Pontius Jika and the residents of Tiom settlement.

63. Labang Wenda, May 1978.
64. Kaleb Wenda, May 1978.
65. We Wanimbo, May 1978.
66. Wanengen Wanimbo, May 1978.
67. Piranggen Wakerkwa, May 1978.

On June 28, 1978, 6 women [no.68 to 73 inclusive] from Babuma village in the Kelila District were arrested for alleged collaboration with the guerrilla fighters. The women were first pack-raped by the soldiers and then killed. Their abdomens were ripped open, and their mouths and vaginas were stuffed full with sweet potato leaves and [red] wild berries. Family and relatives were nor allowed to bury the bodies. The atrocities were carried out under the command of Colonel Albert Dieng of Kodim Wamena. Eyewitness: Rawa Thago, Waren Thago, Yembena Gwar and Ogagi Thago. [source op. cit.]

The women were:

68. Banduk Thago, 30 June, 1978.
69. Pani Pagawak, 30 June, 1978.
70. Nerak Makna, 30 June, 1978.
71. Yabena Thago, 30 June, 1978.
72. Etina Thago, 30 June, 1978.
73. Abpisa Thago, 30 June, 1978.

74. Markus Gombo, 15 August, 1978, at Ragiyam village, Kelila District. He was shot and killed, later his body was chopped-up and fed to the pigs. The murderers were from ABRI Unit 753. Witness: Wonalak Gombo, Lupas Karoba, Lagonek Gombo, and Welly Togodly, and the villagers.

75. Yirin Bula, 16 August, 1978, at Kobakma village, Bokondini District. He was caught handing out OPM pamphlets. He was instructed to get firewood, he was crucified, then his body was sliced with knife, before he was burned alive, hanging on the cross. The murderers were Units from Hasanudin Regiment. Witness: school teacher Max James Thago, Chief Warubukwe Bagabol, and the local people.

76. Isak Togoly, 18 August, 1978, caught while putting up OPM pamphlets at Dagema-Walo, Kelila District. [he was with Habel Kenelak, see below]. His hand and feet were tied together and thrown into 'bottomless' cave. The murderers were from ABRI Unit 752, 753, and together mixed Units. Eyewitness: Yuli Gombo, Bernard Gombo, Sily Karoba and the residents of Kelila township.

77. Habel Kenelak, 18 August, 1978, caught together with Isak Togoly and dealt with his in the same manner.

78. Indengagme Murip, 8 November, 1978, at Ilaga village, Illaga District. She was caught, pack-raped before being killed. Her vagina was filled with soil and dry battery acid; her left ear lobe was severed as proof of killing and trophy. The murderers were from ABRI Units 752, 753, and other mixed Units. The incident was witnessed by: Bony Anayal, Keliopas Kogoya and the residents of the township. [source op. cit.]

79. Yusak Tabuni, January 1, 1979, at Piramid Station Kembin District. He was surrendered with 10 other men of his guerrilla Unit, with civilian men, women and children from their clan. He and his 10 men were shot and their bodies were dumped into a pit latrine after their heads and limbs were severed. [the names of the 10 men were not mentioned]. Those responsible were ABRI Units 752, 753, Kopasanda, Kodim, Koramil and other mixed Units. Witness: The villagers who surrendered together with the 11 men.[source op. cit.]

80 Aquila Joku 25, February 9, 1979. Shot dead at Sentani International Airport. Reason for shooting unknown.

81 Origenes Ohee 18, February 9, 1979. Shot dead in Kota Nica near Sentani International Airport. Reason for killing not known.

82 Nicanor Ohee 20, February 9, 1979. Shot dead at Kota Nica at the same time as Origenes. Reason for shooting not known.

83 Tange Wandik, 28 June, 1979, at Pagale village, Kelila District. Shot dead, then the body was beheaded, the abdomen ripped-open and filled up with a Bible and heads of 'english' cabbage, the murderers sneeringly saying - 'if you are struggling and live like Jesus, resurrect yourself.' The murderers were from Unit 752, 753, Patimura, BRIMOB, Police and Hansip. Witness: Jiganawak Polona, Warigiluk Thago, Mapin Endaganggok, Rawa Thago and Max James Thago. [source op. cit]

4 Guerrillas [no 84 to 87 inclusive] surrendered to authority on June 28, 1979, at Babuma Pagale village, Kelila District. All 4 were shot dead on the spot. The bodies were later butchered, the flesh skewered shish-kebab like roasted on hot charcoal and handed-out to the people to eat. The psychopath murderers were from Unit 752, 753, BRIMOB, Police, Kodim, and Hansip, under the command of Colonel Albert Dieng. Witness: school Teachers - Max James Thago and Rawa Yaly Thago and the villagers.

The men were:

84 Paus Thago, June 28, 1979.
85 Yorone Pagawak, June 28, 1979.
86 Yokawi Gundugi, June 28, 1979.
87 Petan Wakerkwa, June 28, 1979.

88. Baldus Mofu, December 8, 1979. He was abducted from his home on the evening, two months after being released from prison. Mortally bashed-up and unable to talk, he was returned to his home where he died 2 hours later, watched on by his frightened children aged between 5-10. Baldus Mofu had been a thorn in the side of the Indonesian Government. He was a school teacher, turned politician when he was elected member of the New Guinea Council, representing the island of Numfoor. At the sell-out in 1962, he was urged to go into exile, in Holland, but said that his place was with the people. He had been arrested and jailed many times before. His last arrest was in May [1979], there had been no indication that he was tried in open court. He was released in October. His wife had gone to Numfoor to visit sick relatives and he was at home with 2 of his youngest children when some people took him away. [source family letters, WP. Courier]

Four OPM Guerrillas [no 89 to 92 inclusive] gave themselves up to the Authorities at Waisamba-Hanurata near Skanto village, District Arso, in Jayapura Region, on the 14th of October, 1971. They were shot on the spot, by the Units of 751. The heads were severed and taken as proof of killing and trophies. Witness: Mathias Wenda, Bony Anaya, Philipus Kembu.

The men were:

89 Kwarit Thago, 14 October, 1981.
90 Simon Tabuni, " " .
91 Dominggus Tabuni, " " .
92 Harso Togodly, " " .
93 D. Mebri of Bring village and his family, on their way to garden on September 22, 1983, were detained and interrogated by the military. Villagers of Jansu and Idjagrang villages were forced to witness the proceeding. Following the interrogation D. Mebri apparently found guilty of some mischief, was executed on the spot. The military forbid the burial of his body, as a reminder for the price of insubordination to the military.

94 Arnold Ap 26/27 April, 1984, near Jayapura. Arnold Ap, Anthropologist, Poet and Musician, and 4 others, [see also Eddy Mofu] were tricked into escaping from military police custody, and 4 days later, his body was identified at the Ariyoko military hospital with bullet [some report say bayonet] holes in the abdomen on April 26/27, 1984. A lot of conflicting stories had appeared: according to Mochtar Kusmatmadja the then Indon. Foreign Minister, Arnold was shot while escaping in a boat, but the Indon. courts trial papers said he was shot on the beach. Another version is that of the West Papuan Observer [WPO Vol. 8. (84) 4/4: 12-13] ; a certain Arobaya and Sulewa, on finding Arnold mortally wounded on the sandy beach of Pantai Enam or beach six, dragged him to Aryoko military hospital where they arrived at 2 PM [or should have it been 2AM on April 27]. And there very shortly after arrival he blew his last breath singing 'SUP MOWIYA' or 'OH LAND OF MY HERITAGE.'

95 Eddy Mofu, son of Baldus Mofu and friend of Arnold Ap, with whom he was tricked to escape from prison on April 21, 1984. His badly bruised and bloated body with feet tied together, was found by fishermen on 27th of April floating in the sea on Cape Suaja.

96 Mes Togodly, April 12, 1986, at Arso Station, Arso District. Shot dead and his body was put in a bag and thrown in the bushes. It is note worthy that the victim had been an eye witness to several atrocities in the Baliem valley in the mid and late seventies. The murderers were from Sipur Waena, Unit 751 and Kodim Jayapura under the command of Lieutenant Colonel Saleh. Eye witness Welly Togodly, Sily Koroba, and residents of Arso Government Station.

97 M. Zonggonao, Sept. 1, 1986, shot dead Abe Gunung, District Jayapura. He was suspected of supplying food to the Guerrilla fighters. His headless body was drilled with bayonet like a pin cushion.

98 Marthin Sani and his pregnant wife, shot dead in their garden, at Padang Bulan [Jayapura], on September 25, 1986, by Indonesian soldiers apparently frustrated by unsuccessful hunt on OPM armed Guerrillas.

99 Marhin Sani's wife, killed together with her husband Sept. 25, 1986. Her lifeless body was bayoneted like a rag doll to kill the foetus in the womb.

1994/Tembagapura/Timika.

Following some months of armed confrontation between the OPM and the ABRI a number of civilian casualties had fallen. Report of an eyewitness written in Indonesian, claimed on page 4 that between June and December 1994, 37 civilians were killed or had disappeared without trace. Less than 10 people are listed by name. [no. 100 to 108].

[source ACFOA Report April 1995, of eyewitness account, whose name has been withheld for security reason]

Between June and July 1994 murdered were:

100 Bantek Magal [45] Tsinga valley village/community.
101 Netsigikal Beanal [42] Tsinga valley village/community.
102 Hengky Beanal [19] Tsinga valley village/community.
103 Yusak Kum [19] Tsinga valley village/community.
104 Awagal [primary school teacher].
In October 1994 [exact date not known]
105 Gordon Rumaropen [32] mine employee originally from Biak. On December 5, 1994.
106. Rev. Derek Beanal [21], of Kingmi Church, Tsinga.
107 Uljumutme Uamang [19] Hoea village.
108 Uruwai Uamang in his 30's, Hpoea village.
On December 25, 1994.
109 Nogogamakme Mem [31], Tembagapura. He was shot in the back while in hiding near the church, he feared the soldiers guarding the entrance to the church. The congregation was having a normal Christmas Service.

110 Natenawelan Hanggaibak [43] Tembagapura.

111 Wendi Tabuni [m/23] stabbed in the abdomen and shot in the head. His body was dumped in the river gorge on the Tembagapura. The perpetrators were from battalion 733 of Patimura division stationed at ABRI post mile 66.

[Wendi Tabuni was one of the 15 Dani men taken by bus fro Tembagapura to Timika. Of the remaining 14, 3 had disappeared presumably died under torture in custody, the remaining were detained, tortured and later released].

April 16, 1995 Easter.

112 Yunus Kudial, male, from Ekari tribe, shot dead by ABRI battalion 733 Patimura Division, at Kwamki Lama. Yunus and other members of Kingmi Protestant church when returning home from Easter morning Mass [11.30], when the ABRI barred their way. Yunus trying to explain was beaten-up and when he retaliated he was shot dead.
The Free West Papua Movement. OPM
( Organisesi Papua Merdeka).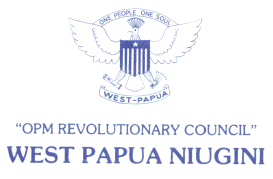 11.6 PERSONS WHO DISAPPEARED WITHOUT TRACE.
Literally the person disappeared, and no eye witness can pin point the site of the killing and or the site of the disposal of the bodies.

This is the worse case of murder because the family has no clue as to whether the person is dead or still alive. West Papuan Observer on its issue of vol.7 [1983/84] 5/6:5 ;l ists the modus operandi as follows: Once the decision is made to liquidate the person, his family is informed of his release [with date but not the time]. On the appointed day the prisoner signs the release papers and is duly released. The person literally walks out of the prison, on the way home however the person is kidnapped by the military in civilian clothes [either on the pretext of giving him/her a free ride/lift home] and taken to secluded spot, murdered and the body buried or thrown into the sea. When the person's relative inquire about the person at the prison [usually the next day because the person had not reached home], they are shown the release paper with the person's signature on it. The ominous sign of impending execution is if the victim is physically released at 6 o'clock in the evening. Prisoners who have open trials and or known Internationally like Arnold Ap and his friends, and Mecky Salosa, are murdered by setting up sham prison breakouts, in which the prisoners are brought to an appointed hideout, where they are ambushed by the military. [the cases of Arnold Ap and his friends in 1984].

The list is deceptively short, because relatives just did not know or are afraid to make any inquiries for fear of persecution by the ABRI. Only the well known leaders whose disappearance have raised questions, others are simply covered-up.

1. PENEHAS TOREY Former member of New Guinea Council and member of the Provincial Assembly was last seen taken away by the military from his home in Jayapura for questioning on May 11the. 1969, following a mass rally/demonstration protesting against the 'Purapura Act'. He was never seen again. Moses Werror [now living in exile] was the last person to have seen him.

2. MARTIN JELMAU
A political activist. He was taken prisoner also in 1969. He was then forced by Indonesian military to lead them to his friends at Markas Victoria. M was last heard of by his friends, crying for mercy, when the Indonesians stormed their hastily deserted camp.

3. IZACK SAMUEL [MIMI] FATAHAN
Musician, and a business man, went hunting with a certain Captain Coreles in mid September 1979, he never returned. He had previously crossed the border into PNG and asked for asylum, but was refused and forcibly returned to Jayapura. Official Indonesian response to inquiries made by his relatives in Port Moresy through Mr. Unwin, the UNHCR Representative was that Mr. Fatahan is alive and well, and is hunting crocodiles, with one of the Tabu brothers. [his family is still waiting for his return 14 years later].

4. PERMENAS FRITS AWOM
A Guerrilla leader, who laid down his arms following President Suharto's amnesty decree of 1967. He was put on a vessel 'Hyggens' sailing from Manokwari to Biak, a journey that normally takes 6n hours. The boat returned 2 hours later without Peremnta. It is presumed that he was dumped at sea and drowned. [he was allegedly to have been put into a hessian bag weighted with stone and dumped in sea between Manokwari and Island of Numfor, Cenderwasih Bay].

5. GODFRIED MIRINO
Member of New Guinea Council and the Provincial Assembly. He was taken from his home by unknown persons and had never come back, 1967/68?

6 GALIM LEASA, LEADER OF 'GERAKAN MERAH PUTIH' [lit. meaning 'Red and White movement', red and white denoting the Indonesian flag , it stands for pro-Indonesian groups in the 40s and 50s]

Member of DPRD Propinsi Irian Jaya [ provincial Assembly], detained and died in prison presumably from torture. [no. 7-10, these victims were the result of the excesses of the ABRI in the Free Port mine area in 1994/1995 and reported by the Roman Catholic Bishop of Jayapura.'

15 Dani men, 5 from Waa village and 10 from Timika, returned to Timika by a Freeport mine bus no. 44 from Tembagapura, where they celebrated Christmas at Waa village. One named Wendi Tabuni was shot dead and his body thrown in the ravine at mile 66 road to Timika. Persons no. 11-13 were detained and tortured and were never seen again. Presumed dead following torture under custody.

11. YOEL KOGOYA [27]
12. PEREGAMUS WAKER [28]
13 ELIAS JIKWA [28]


OTHER HUMAN RIGHTS ABUSES

Abuses of Human Rights resulting in deaths and the disappearance without trace have been covered in the previous chapter, and will not be repeated here.

The abuses not resulting in deaths or disappearance are wide spread, and if only half of these are reported it could take several volumes to contain them. These abuses are indiscriminate, even the clergy did not escape deaths and degradation, e.g.:

REV. KOIBUT, was stripped naked and forced to masturbates in front of his family, 1966?

REV. FATHER TETTOROO [Dutch catholic priest] was forced by the ABRI, to eat human penis, cut off an OPM fighter shot dead in Paniai Wissel Lake District, 1977/78.

Four women was arrested from Piramid village, Kembin District Jayawijaya, in March, date not stated, 1978, and taken to police past. The women were mothers and wives of men who had joined the armed fighters: Mince Tabuni, wife of Amos Tabuni; mother of Otto Tabuni; mother of Willem Aud; and mother of Sam Tabuni. They were later taken to the yard of missionary at Piramid, and kept there serving as sex slaves for over a month. Before being returned to their village, dry battery acid were stuffed up their vaginas. The atrocity was the work of ABRI Unit 752, 753, Kodim Wamena, Hasanudin, Patimura and the Police under the command of Colonel Albert Dieng now Bupati ay Wamena. [source typed written letter/report by N. Ipu Hou, June 30th. 1989].

1978; two women: Namelak Wenda [mother of Mathias Wenda], Kele Wenda ['younger' mother of Mathias Wenda] were arrested by the military and taken to the police post where they were tortured to get information of the whereabouts of Mathias Wenda. They were then packed raped for 36 hours [3 days and 2 nights], before their vaginas were stuffed full of a mixture of battery acid and chilly sauce. An infant belonging to one of the women was left un-cared for during the ordeal and consequently died of starvation. Those responsible were ABRI Units 752, 753, Kodim Wamena, Patimura, Hasanudin and other Units, all under the command of Colonel Albert Dieng. Eyewitnesses: Baas Tabuni, Panus Kilungga [chief of Piramid village], Alex Wanimbo another village official from Piramid. [source op. cit].

A total of 21 men were arrested and detained by the ABRI at military posts in and around Tembagapura, between December 25 1994 and January 8, 1995. They were accused of having collaboration with the OPM Guerrilla group under the command of Kelly Kwalik. Several of Kelly's relatives were arrested and were never seen again, presumed murdered.

The detainees were:
1994 December 25/26;

1. Yunus Omabak [m/33] married, Kingmi tribal chief Amungme Wa clan.

2. Naimun Narkime [m/50] married, Kingmi tribal chief Amungne Wa clan.

3. Oktovianus Tiwak [Bishop of Jayapura's version gave the name as Okto Kiwa] married, 30, Amungme clan, FIC.

4. Pius Waker [34] married, Kingmi Dani Waa, FIC.

December 29, 1994.

5. Petrus Omabak [m/31] married Kingmi Amungme Waa clan [FIC].

6. Komugal [19], Amungme clan [the Bishop's version Altimus Komanggal male married Damal K. Lama FIC]

7. Herman Beanal [m/4?] married Kingmi Amungme Waa FIC.

December 31, 1994.
8. Dominggus Narkime [m/29] married Kingmi Amungme Wa clan.

9. Eltinus Omaleng [m/23] married Kingmi Amungme Waa clan FIC.

January 1, 1995:
10. Hamo Hom [m/25] married Kingmi, Amungme Waa, FIC.

January 8, 1995.
11. John Jamang [m/35] married Kingmi, Amungme Waa, FIC.

12. Silas Magal [Bishop's version Silas Hagal m/31 married Kingmi Amungme Waa clan FIC].

13. Joel Beanal [m/19] married Kingmi, Amungme Waa, FIC.

14. Philipus Beanal [m/21] married Kingmi, Amungme Waa, FIC.

15. Martin Hagal [m/22] married Kingmi, Amungme Waa, FIC.

16. Martinus Hagal [m/28] married Kingmi, Amungme Waa, FIC.

17. Yupinus Hagal [m/19] married Kingmi, Amungme, Waa, FIC.

18. Yohannes Kum [m/19] married Kingmi, Amungme, Waa, FIC.

19. Jonny Beanal [m/18] married Amungme Waa clan FIC employee.

20. Simon Bukaleng [m/20] [also known as Sion Bukalang m/21.

date of arrest of these two are not known.
21. Yakobus Magal [22] Amungme clan,
22. Deny Onggomang [21] Amungme clan.

Based on the account by eyewitness who reported this incidence to ACFOA, and a report by the Roman Catholic Bishop of Jayapura, Dr. Hermann Munninghoff. The AFCOA reports were in both English and Indonesian. There were some minor discrepancies in translation, particularly in the spellings of the names. Where this occurs both versions of the names are given. The account on both versions tallies. The men were beaten up, and were deprived of food and water and were allowed no exercise out side their cell. They were held for 2 weeks, then all, except one, were released after signing declaration that they had taken part in subversive activities. In contrast the TIFA Irian writing on the same story insisted that the detainees interviewed denied and beatings. [the TIFA Irian story was in the issue of 4th week of August 1995, that was 8 months after the incident. The ABRI have ample time to have made the detainees change their story! Eds.]

[Bishop Munninghoff's report is appended at the end of this chapter.]

AMNESTY INTERNATIONAL drew the following conclusions in its April 1991 report [quoted from Indonesian News service, no. 299, June 13, 1991]:

"CONTINUING HUMAN RIGHTS VIOLATIONS IN IRIAN JAYA"
Conclusions:

At least 130 political prisoners from Irian Jaya are currently serving sentences of up to life imprisonment in Indonesia jails. Amnesty International believes that at least 80 of these prisoners may be prisoners of conscience, persons held for their non-violent political or other activities or beliefs. Most political prisoners have been convicted under the anti-subversion law and Amnesty International is concerned that their trials may have failed to meet internationally recognized standards of fairness.

Amnesty International is calling for the immediate and unconditional release of all prisoners of conscience and is actively investigating cases of those political prisoners who may be prisoners of conscience or whose trials are thought to have been unfair. It urges the Indonesian Government to take steps to ensure that nobody is imprisoned for the peaceful expression of their political or other beliefs and that the sweeping anti-subversion law is used to imprison people whose activities or beliefs do not constitute a genuine threat to National Security. It asks the Government to make available copies of documents from past political trials and to permit qualified International observers to attend such trials in the future.

Amnesty International urges the Indonesian Government to abide by it obligations under International Law to investigate thoroughly and impartially all reports of such human rights violations, to make public the results of any investigations and to bring the alleged perpetrators promptly to justice.

The verdict vindicates the hundreds of complaints, submissions and protest notes sent to Foreign Embassies, UN envoys, and the Untied Nations Secretary Generals since 1963 - 1995.

Between June 1994 and February 1995 some clashes took place between the land owners, the ABRI, the Security Personnel of the Mine and an OPM Unit. The root cause of the altercation is uncertain, based on the report that landed at the ACFOA [Australian Council for Overseas Aid] the problem arose out of the people's grievances towards the destruction of their habitat, their livelihood and constant intimidation's by the Security forces, Government as well as the Mine's. The Indonesian Military and the Mine's spokesman insisted that the fomenting of this grievances was organized by the OPM Unit under the command of Kelly Kwalik. Who started it and how it started is immaterial here, what is of direct relevance in this chapter is that some civilians were murdered collectively and singly. How the actual killings took place was unclear in many of the cases. The report documented 16 men actually murdered and 6 disappeared without trace, but the eyewitness believed the murder of civilians victims may be higher. Contrasting this report with reports in the local News paper Tifa Irian [weekly, week 4th. August 1995] and Cendrawasi Pos Thursday 31st. August 1995, the Indonesian Military had shifted the blame to OPM for planting the anti-Indonesian sentiment in the minds of the people and that ABRI was only trying to protect the people. [some kind of protection all right. Eds.]

[source ACFOA Report April 1995, of eyewitness report, whose name has been withheld for security reason].

WEST PAPUAN GULAG.

Since the epic saga of Solzhenitzin's Gulag Archipelago, other civil Libertarians around the world have uncovered many Gulags in their own back-yard. In Indonesia they are called TAPOL; an acronym for TAHANAN POLITIK, or POLITICAL PRISONERS. West Papuans have had their fair share of political prisoners since the Indonesian take over, in fact many West Papuans have claimed political prisoner status since the end of the second world war. But how extensive is this West Papuan Gulag. Any attempt at getting some glimpses of this Gulag however is greatly hampered by its 'surrounding murky waters'. West Papuan Observer quoted a figure of 1500 [vol.4 - 1979, no 3:7].Another factor is that once one enters this Gulag one is marked for life. Some of the denizens of the West Papuan Gulag had never been charged. Only in the last 5 years when world opinion is stacked against her human rights records, and particularly since human rights records is linked to economic aids, did Indonesia allow some glimpse of the West Papuan Gulag. Some prisoners were actually brought to court trials open or otherwise.

The lists presented below are, as much as we hate it, incomplete and dated. The purpose of listing them is primarily not, to plead for leniency and strict adherence to International convention on TAPOLS, but rather to show that West Papua was a still is a RELUCTANT INDONESIAN COLONY. The fact that many of them were arrested because of raising the West Papuan flag on Indonesian Government buildings, is the simple proof that the Act of free choice was a sham.

The list is construed from reports over the years, some from those who had themselves been imprisoned in the past, others from friends and relatives. Some of them had subsequently died in custody, executed or disappeared without trace. The latest one is taken from Amnesty International report of April 1991. The list is by no means complete, we can not even guess what proportion of the Gulag is covered.

We have tried to present it as chronologically as possible.

Adolf Gustaf Hanasbey, 1965.
Bob Kubia, 1966.
Moses Werror, 1969.
[late] James A. Joku, 1965.
Hendrick [Henk] Joku, 1965.

The following list is taken from West Papuan Observer Vol.6. No. 6 [1981] ; 8&9. Place of detention PODAM 17/ CENERAWASIH.

NAME DATE OF DETENTION CHARGE OR INCIDENCE

1. SAWAKI, Albert June 1979
2. ONGGE Arnold June 1979
3. NUMBERY Jance June 1979
4. PAPARE John June 1979
5. REREY Eliezer June 1979
6. WAYOI Bernard June 1979
7. BONAY Saul June 1979
8. MAY Abner June 1979
9. SUWAUE Yeremias June 1979
10. WAYOI Michael* June 1979
11. WAYOI Yeret June 1979, 24th
12. ABAA Petrus** June 1979, 26th
13. ABAA Topilus June 1979, 26th
14. ABAA Baker June 1979, 26th
15. .......... Pius June 1979, 26th
16. WENDA Yulianus June 1979, 26th
17. ABAA Frans June 1979, 26th
18. RUMI Musa June 1979, 26th
19. ABAA Petrus** June 1979, 26th
20. TANAWANI Yulianus June 1979, 26th
21. WAROMI Yosephus June 1979, 26th
22. DEMETOUW Menase July 1979, 15th
23. DEMETOUW Jance July 1979, 15th
24. WAPAY Selsius July 1979
25. SORONDANY Gerson July 1979
26 KAWAI ? July 1979
27. AROBAYA Nathaniel July 1979
28. TOTO Justinus July 1979
29.WATORY Paulus Sergius July 1979
30. JOKU Herman Aug. 1979
31. JOKU Yan Aug. 1979
32. BONAY Steven Aug. 1979
33. PASEY Tom Aug. 1979
34. PUIRI Octo Aug. 1979
35. MIRIP Herman Aug. 1979
36. BUKORSIO ? Aug. 1979
37. SUMBUK Yefen Aug. 1979
38. WAISIMON Luther Aug. 1979
39. YAKADEWA Kristian Aug. 1979, 26th
40. TOTO Tholpinus Aug. 1979 26th
41. TAURUI Souriel ? ?
42. NEROTOUW Yan Piet ? ?
43. AWI Lukas ? ?
44. JOKU Terianus ? ?
45. ARONGGEAR Eddy Aug. 1979
46. TARAN Kaleb June 1980
47. WATOPA Manuel June 1980
48. ARONGGEAR Terianus June 1980
49. WAROMI Yoel June 1980, 24th
50. TOKORO Silas July 1980
51. KENOP Paulus Aug. 1980, 04th flag raising.
53. FISRERWA Mrs. Dominggas Aug.1980, 04th flag raising
54. YAKADEWA Mrs. Florida Aug. 1980, 04th flag raising
55. YAKADEWA Mrs. Regina Aug. 1980, 04th flag raising
56. YARONA Mrs. Mary Aug. 1980, 04th flag raising
57. YARONA Mrs. Barbalina Aug. 1980, 04th flag raising
58. KUNTUI Paulus Aug. 1980
59. MABUI Musa Aug. 1980
60. BAK Yulianus Aug. 1980
61. FEGLI Yulianus Aug. 1980
62. TABUNI Isak Aug. 1980
63. BURYAMKIR Soter Aug. 1980
64. YARONA Sefnat Sept 1980
65. KOSEI Frans Dec. 1980
66. WAINE Frans Dec. 1980
67. PAPRINDEY Elias Dec. 1980
68. KENOP Miss Doly*** ? ?
69. KENOP Miss Ribka*** ? ?

* YERET WAYOI was held at Naval prison at Hamadi.

** PETRUS ABAA's name has been entered twice.

*** DOLLY and RIBKA KENOP were aged 9 and 10 respectively; they were daughters of one of the women who raised the flag at the Provincial Government Headquarters.

Those held at KODOM are as follows:

1. DEMENA Benjamin Mar. 1980, 9th
2. TABU Marthen Ebesius April 1981, 19th
3. GIRJAPON Dirk Mar. 1981
4. GIAY Silas Mar. 1980

At the time of putting this paper together we have no knowledge of their fates. Some of them would probably have been released, as it is now almost 14 years since some of them were arrested.

The following list is taken from 'Inodnesia News Service', no. 299, June 13, 1991 by Indonesia Publication of 7538 Newberry Lane, Lantham-Seabrook, Maryland 20706, US:

NAME SENTENCE CHARGE OR INCIDENCE

L. P. KALISOSOK.

1. BOMAY Saul 14 years. Aug.1980 flag raising
2. PESAKOR Paulus Kontui 14 years. Aug 1980 flag raising
3. USIOR Adrianus 10 years. Badan intelijen Papua barat.
4. ABISAY Isaak 10 years. arrested 1986
5. KARETH Nixon Robert 7 years
6. WAY Saul 10 years
7. NAWIPA Yoseph 16 years. March 1988, attack on Arso
8. KOGOYA Beni 18 years. arrested Nov. 1988
9. KAUSA Alpius 12 years
10.WENDA Samuel 12 years
11.WANIBO Matheus 12 years
12.MORIP Darius 8 years
13.KOGOYA Wedimus 10 years, Dec. 1989, attack on Arso.
14. NIAN Ortisamil 10 years
15. APASERAY Danus 4 years. Tanah Merah incident, 1987.
16.AWOM Eliezer [Elias] LIFE OPM Leader, arrested 1989.

L. P. MERAUKE

1. ANDEGEMA Petrus 7 years flag raising
2.KIMKU Augustinus 9 years
3. YANGGARANG Matheus 9 years
4. AKI Gregorius 5 years messianis movement
5. WANIKOP Hendrikus 6 or 9 years
6. WANIKOP Andreas 6 or 9 years
7. OKTAN Baltasar unknown

L. P. BIAK.

1. ARFASAU Frans unknown alleged links with OPM
2. RUMBEWAS Isak unknown
3. WANMA Steven unknown
4. WANMA Petrus unknown
5. ABODONDIFU Alfons unknown
6. ABIDONDIFU Daud unknown

L. P. SERUI.

[note: these prisoners may have been transferred to MANOKWARI]
1. WAIRARA Julius 7 years committee Lib. West Papua
2. RAMANDEWAY Mecky 5 years arrested 1984
3. AROMBAYAI 7 years
4. PAIRIR Yakop 12 years
5. PAKEBORI Daud 12 years

L. P. MANOKWAIR.

1. NUMAKI Sergius 7 years
2. WIYAI Septer 7 years
3. KURUBE Aser 4 years
4. MANANIAN Ferdinand 4 years
5. IMBURI Marthen 4 years
6 ARIMSORE Yan Piet 4 years

1. RUMBIAK Melkianus 18 years OPM Leader, arrested Aug. 88.

LAKSADA [ JAYAPURA]

1. SALOSA Melkianus

[Mecky] LIFE OPM Leader, arrested Jul. 90, after being deported from PAPUA NEW GUINEA .[has since reported dead 1992] see gangland style killings.

L. P. ABEPURA.

1. YAROSERAI Stefanus 4 years Tanah Merah incident
2. OFFIDE Obed Nusa 4 years arrested 1987
3. DEMOTOUW Agustinus 4 years
4. ONYORA Julianus F. 9 years alleged OPM activist
5. SORONDANYA Amos 4 years alleged OPM activist
6. WANMA Nabot 7 years alleged OPM activist
7. NAA David not sentenced, political detainees
8. DJITMAN Boas not sentenced, still held in 1991
9. MARFUM Otis not sentenced
10.SALOSA Selfianus not sentenced
11.WAY Steven not sentenced
12. HOMER Derek not sentenced
13. IEK Simon not sentenced
14.KAMBUAYA Soleman not sentenced
15.KARETSAN Mesak not sentenced
16. HOWAY Yulianus N. not sentenced

Prisoners convicted of subversion for involvement in the Flag-raising of 14 December 1988.

NAME SENTENCE PLACE OF DENTENTION

1. WAINGAI Dr. Tekuro [ he has since died in custody]
20 years Cipinang
2. WAINGAI Mrs. Tekuro 8 years Tanggerang
3. WAROMI Rev. Ones 6 years Kalisosok
4. UMBERI Rev. Melkianus 4 years Abepura
5. OROPA Rev. Aminadab 5 years Abepura
6. KARANI Martinus 5 or 8 years Abepura
7. WANGGAI Leonard 5 or 8 years Abepura

8. ARWAN-SUABRA

Mrs. Heni 4 years Abepura
9. WATOPA Rev. Dominggus 6 years Kalisosok*
10.FONATABA Rev. Robi 5 years Waena
11.WAROMI Barends 4 years Kalisosok
12.WAMEA Rev. Alex 5 years Kalisosok
13.WANGGAI Yance 7 years Kalisosok
14.ARWAM Hanock 7 years Kalisosok
15.KARUBABA Rev. Luther 6 years Waena
16.WAIRARA Hendrick 6 years Kalisosok
17.ANDERI Yan Heri 4 years Kalisosok
18.WANGGAI Nicolas 5 years Kalisosok
19.WANGGAI Gustaf 8 years Abepura
20.WORU Robi 4 years Kalisosok
21.MANIANI Anthon 4 years Kalisosok
22.FONATABA Yan 7 years Abepura
23.REWANG Marthen 7 years Kalisosok
24.KARENI Daud 7 years Kalisosok
25.KORIDAMA Yacob 4 years Waena
26.MARANI Permenas 5 years Kalisosok
27.KARENI Karel 6 years Abepura
28.KARENI Mrs. Alliance 3 years Abepura
29.ANINAM Thoni 6 years Kalisosok
30.MANSAI Sem 6 years Kalisosok
31.WANGGAI Wilhelmus 3.5 years Waena
32.AROBAYA Eliezer 4 years Kalisosok
33.DJITMAN Amos 3.5 years Kalisosok
34.MANORI Yustus M. 4 years Kalisosok
35.WANGGAI Miss Paulina 2 years Abepura
36.NUBOBA Perkorus 4 years Kalisosok
37.FOUW Lambertus 7 years Abepura

Some prisoners listed here were due for release in 1990 or 1991 and may no longer be in custody. However, because Indonesian Authorities seldom publicise the release of political prisoners, confirmation of such releases is difficult, often coming several months later through unofficial channels.

Additional prisoners convicted of subversion in connection with the Flag-raising of 14th. December 1988.

NAME SENTENCE PLACE OF DENTENTION

"KELOMPOK IX"
1. MANIANI Rev. Karel 4 years Kalisosok
2. MAMBOR John Simon 7 years Kalisosok
3. WATORI Bernard Edi 5.5 years Kalisosok
4. KUNGGUNUM Edison 5.5 years Kalisosok
5. INAURI Johanis C. 6 years Kalisosok
6. MANIAKORI Lukius 4 years Kalisosok
7. BETAWI Lodewijk 15 years Kalisosok
8. WANMA Julianus B. 17 years Kalisosok
9. SORONDANYA John 10 years Kalisosok
10.OFFIDE Ferdinand 14 years Kalisosok

"KELOMPOK IV"

11.AYOMI Sopater 6 years Kalisosok
12.MAREY Lukas 8 years Kalisosok
13.MBAUBEDARI Roni David 4 years Kalisosol
14.BOARI Hanokh Octavio 4 years Kalisosok

*These ex-students from Technical High-School were picked up, March 18th 1996 by Military/Police, they were interogated, kicked, punched - resulting in broken bones, fractured skull, some collapsed [unconsious], hospitalized. They were still in hospital untill recently.

1. NIKO TIER [28]
2. ENOS SITAWA [31]
3. YOPI FAIDIBAN [25]
4. YUSUF RUMBAI [20]
5. GEORGE SARWOM [31]
**These students were picked up by Military/Police in Jayapura, 26-3-96, for interrogation. Thery were punched and kicked, some collapsed.

NAME AGE EDUCATION/SCHOOL

1. YAHULI Didimus 21 years Alumni PGSD UNCEN
2. JEMIUS Aso 19 years Mahasiswa UNCEN
3. MUSA Mabel Kls II SMA PGRI Abepura
4. MUSA Aso SMA PGRI Abepura
5. HERMAN Yulipele Kls III STM Kotaraja
6. SOTER Mabel Kls II SMEA Kotaraja
7. ALOYSIUS Marian Kls II STM Kotaraja
8. PENETUS Wetipo 25 years Mahasuswa STISIPOL Jayapura
9. BERTUS Aso Kls II SMA Taruna Bakti Waena
10.HUBERTUS Doga 25 years Mahasiswa POK [UNCEN]
11.SAMUEL Kogoya 21 years Mahasiswa FH [UNCEN]
12.MANUEL Mulait 25 years Mahasiswa STISIPOL Jayapura
13.MELKIAS Gombo 24 years Mahasiswa STTJ
***These people were killed by FREEPORT MINING Security. Date given.
1. PAULINUS Songgonau [1982]
2. AGUS Kobogou [1992]
3. KAWARO Manden [1994]
4. KORNELES Magai [1992]
5. ALFIUS Kuyangge [1st. Dec. 1987]
6. NOPINUS Kogoya [1996]
7. BENY Alom [unknown]
8. MELIANUS Murib [unknown]
9. YOEL Wakerkwa [unknown]
10.KLEMENS Murib [unknown]
11.ARIANUS Murib [unknown]
12.JOHN Mom [unknown]
13.MARTHEN Janampa [unknown]

END

You Can Help End This Evil

Imagine for a moment swapping lives with relatives of the survivors and deceased you have just read about? How long could you endure the terror? Wouldn't you desperately pray for help? Help from anywhere, from anyone? Do you want to know the really frightening truth? These peoples last and only hope is you. Governments dont want to know or care.

There's only you and one realistic way you can make a difference is by joining with thousands who feel the same way. By joining Amnesty International and making a donation or by contacting us the campaign@amnesty.org.au
---
---
Your information, comments, questions, words of encouragement or support are welcome
boyjah@voicenet.co.jp