The Free West Papua Movement. OPM
( Organisesi Papua Merdeka).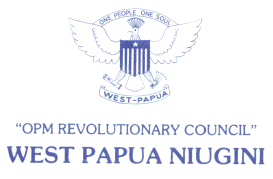 "The daring January 10 raid by guerillas of the Free Papua Movement (OPM) has provided fresh evidence that the long struggle of the West Papuan people against Indonesian occupation is far from over- despite repeated claims to the contrary by the Indonesian military machine and its international backers. Seven visitors from Europe and at least 14 Indonesians were seized in the raid on Mapnduma village" Green Left Jan 24 1996.

The aim of our movement is simple. To liberate and obtain independence for West Papua from its colonial ruler Indonesia. This simple aim is based on the OPM foreign policy of Mutual Understanding and Respect and once independence is achieved it shall remain the basis for the development of democracy in the Independent State of West Papua Niugini/ Irianjaya.

The OPM is overseen by the OPM Revolutionary Council based in Madang, Papua New Guinea. Headed by its Chairman Moses Werror, the OPMRC aims to obtain international recogition for West Papuan independence through international forums such as the United Nations, The Non Alligned Movement of Nations, The South Pacific Forum, and The Association of South East Asian Nations.

" West Papuan Resistance to Indonesian occupation began in 1962, when temporary authority was first given to Jarkarta. Indonesia has conducted a vicious war against the West Papuan people and the OPM rebels ever since." Green Left 1/24/1996.

The OPM was officially founded and began its struggle in 1964. It has continued to do so over a series of 7 successive stages, each lasting 5 years since then. These are:

1. 1964 - 1969  - Preparation  for the Act of Free Choice 1969.
2. 1970 - 1975  - Restructuring of the OPM organisation.
3. 1976 - 1981  - Redeployment of resources following PNG
                  independence.
4. 1982 - 1987  - OPMRC established with Chairmanship.
5. 1988 - 1993  - International diplomacy campaign.
6. 1994 - 1999  - Recovery of the lost nation of West Papua/Irian.
7. 2000 - 2005  - Re-build the new nation of West Papua within
                  Melanesian perimeters.

"Our freedom fighters are poorly armed, often having to make do with spears and bows and arrows to fight the Indonesian army, yet despite our poor military equipment, we have been strong enough to stand up against Indonesia's military machine for more than 30 years. No one can deny we are strong." Green Left- Moses Werror 1/24/96.
The OPMRC seeks to continue with its International Diplomacy campaign and needs only one country to recognize our plight. No matter how big, small or powerful as long as the country is a member of the United Nations we can act in a more effective manner on the international stage.Through a combination of international solidarity and an upsurge in military and political activity inside West Papua, the OPMRC aims to receive recognition for its right to self determination by the year 2000. The recent kidnapping of hostages, although unfortunate, is one of many OPM actions that have taken place over many years, despite the establishment media blackout and the Indonesian regime's repeated claim that the West Papuan liberation movement has been defeated. The OPM does not intend to harm its captives for we only seek to attract international attention to our struggle for self- determination.
"We have struggled for more than 30 years, and the world has ignored our cause." Moses Werror.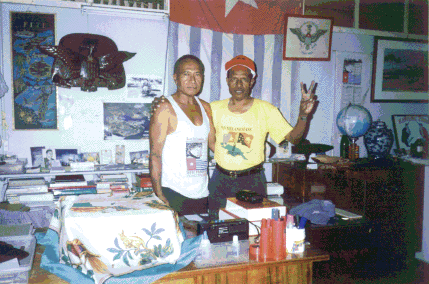 From left to right Moses Werror and friend
A LETTER OF APPEAL, July 15th,1996.
Submitted to:
The Prime Minister of the Republic of Fiji
Rt.Hon.General Sitiveni Rambuka,
The Prime Minister of the Republic of Vanuatu
Rt.Hon. Maxine Carlot,
The Prime Minister of Papua New Guinea
Rt. Hon Sir Julius Chan,
The Prime Minister of Solomon Islands
Rt.Hon Solomon Mamaloni,
It has become necessary once again to appeal for attention to the Melanesian people of West Papua, for the continuation of the struggle for self government and full independence from the Indonesian colonial administration.
Our struggle for independence is not new, we have fought against the Indonesian colonial administration now for thirty-four years. We were cheated by the Dutch and Indonesian Governments in 1962 with the New York Agreement and again in 1969 with the Act of Free Choice. We thought we could trust their supposed genuine support for our people and nation but instead we have been left with one of the most vicious colonising nations to have emerged.
Furthermore we were punished by the United States, Australia, France and the Netherlands Government for they ignored our cries for recognition and self determination then, and now seek to destroy us by collaborating with the Indonesian Government on economic, business and arms deals at the sole expense of our people.
Whatever the decision made by the New York Agreement, and the Act of Free Choice, or Pepera, we have been excluded. However we have never given up, as we believe that colonialism in all her forms, manners and methods will sooner or later be eradicated. It is happening now for the worlds political climate is volatile and given the UN proclamation that 1994-2004 be the decade for Indigenous Peoples, we view this as an "open window policy", for the Melanesian people of West Papua to achieve our goals of self determination and independence.
Therefore we would like to bring to your governments attention and consideration for supporting our case at the upcoming United Nations General Assembly. The following are requested to Your Governments Sir(s).
1. To initiate lobbying, support for sponsor petition to rescind the UN General Assembly Resolution No.2504 of November 25, 1969 regarding West Papua or West Irian remaining a part of the Indonesian Republic.
2. To support lobbying for and to put the West Papua case on the list of decolonization at the United Nations Committee 24.
3. Calling for internationalizing the territory, and preparing it for self governance and full independence, possibly by the end of the year 2000.
We are looking forward to your Governments favourable policy to support us at the upcoming UN General Assembly and also at international conferences. We hope that the above will become a historic decision for us and that you will be "a living hope" for the suffering Melanesian peoples of West Papua and for the future of our children.
Yours Faithfully,
Moses Werror
Chairman OPMRC ==============================================================================
A brief report on the United Nations Decolonisation Seminar held at the Travelodge Hotel, Port Moresby, Papua New Guinea.
June 12th-14th, 1996.

By: Moses Werror,
Chairman of the OPMRC.
This is the second time Papua New Guinea hosted the seminar on decolonization. The first seminar was to draft a policy on conditions for the political status of the remaining colonised territories and peoples. The second, to speed up the process of eradicating colonialism in all its forms before the committee is to be abolished by the year 2,000.
The new draft policies proposed that present colonised nations such as New Caledonia, Tahiti, Irian Jaya, East Timor, (although the latter two were not on the agenda), are to be able to determine their own political future whether they want full independence, or independence in association with the existing government, or independence in association with other independent countries in the region.
The 24 member countries known as Committee 24 were given a mandate from the UN General Assembly to work on the process of decolonisation of trust territories, ( colonised nations), and to collaborate with the colonial governments on developing a strategy toward greater self determination and eventual independence. This mandate is also to be carried out free of discrimination.
Since its inception in 1960 many Pacific Island and Melanesian nations have gained their independence via this procedure. For example Fiji, Vanuatu, Kiribati and Papua New Guinea etc. However in the case of West Papua (Irian Jaya) and East Timor time is running out for a fair hearing and for our case to be presented to the United Nations General Assembly. Our mission is made more difficult in that one of the member countries of the Committee 24 is Indonesia and we have consistently been barred and blocked by Indonesia at each Committee meeting. The problem is magnified in that other Melanesian nations now" kowtow" to Indonesia's whim and therefore violate the UN mandate of non-discrimination.
The Committe faces another problem in that it is expensive to hold such a meeting, approx US$150,000, and voiciferous calls were made by US and UN diplomats to scrap the Committee and meetings prematurely given its apparent lack of need and the fact that it is a "junket for beureaucrats".
The seminar was opened by the Prime Mininster of Papua New Guinea, Sir Julius Chan. He reiterated the PNG governments policy on colonialism by stating,"Our determination to see an end to colonialism in the region is clearly expressed in my Government's Pacific Plan."
My concern is that this plan does not include the future of West Papua. For example we (the OPMRC) were not informed of the meeting until the last minute. We then submitted a letter with the names of our delegation to the Department of Foreign Affairs in Waigani but we were told to see the UNDP. When we approached the UNDP office we were advised to address the letter to them, with the names of our delegation, and we did as advised.
We waited and heard nothing. We prepared a speech and continued with preparations for the NGO and University students forum prior to the UN meeting. Our plan was to march on the 13th June at 3.00p and peacefully present our case to be heard to the committee. It was during this time that we were advised we were not invited nor was our case for self determination and independence to be discussed. This was a major set back for us however we have encountered them before and we were not going to give up.
On the morning of the opening day we went to the hotel to see if there was any opportunity for a late application or hearing. While we were waiting we saw the PNG Foreign Affairs Secretary Mr Duvasa and his staff emerge from the conference room. I approached them but was told by the officer in- charge of protocol, that the Chairman is the person to be approached on such matters. We were then told to wait in the waiting room for a 'opportunity' to meet the Committee Chairman. It was then that I saw a tall man walking towards me and I duly introduced myself. He was a Jamaican and a member of the Committee 24. He took me into the conference room to check to see if we were invited but our name was not on the list.
I then approached the PNG Ambassador to the UN and Chairman of the meeting Mr Utula Samana. He informed me he was chairing the seminar and therefore did not want to break the rules. He went on to say that if we could find a member country to present our case, then it could be discussed. I gave him a copy of my speech and thanked him.
As predecided, we were to march on June 13th starting at 3.00pm. However the time was changed to 12 noon which was inconvinient to students for they were still in class so unfortunately we were bereft of their presence. Instead we (the OPMRC), NGO's and supporters marched peacefully to the Travelodge.
We had 8 morning stars flying (the illegal flag of West Papua), many banners and were accompanied by Police and Security officers to the hotel entrance where we wanted to present our petition to Mr Utala Semana once again. He refused to come out and meet us and suggested that our delegation meet later in the day.
The other committee members reactions were warming in that the Kanak members were excited to see OPM/WP supporters at the hotel, and the Cubans were surprised at the similarities of flags. The Indonesians took photos and from the look on their faces were not happy whilst other members took video and film.
I and NGO representative, Michael Taksi were interviewed by EM-TV Journalist and Camera man, and I was interviewed by the ABC on the same day. Even though we were not invited or were able to discuss our case we were satisfied with the public reaction of the committee members.
In conclusion we are doing as advised and approaching certain countries, those who we believe may help us in the spirit of Melanesian brother and sisterhood. We hope that they will present our case at the forth coming United Nations General Assembly and I ask you, Friends of West Papua to likewise write a letter of concern to the enclosed leaders pressing for our case to be heard.
Finally I do believe that the Melanesian people of West Papua will be recognised and given the chance to determine their future political status, and given the current turbulent political climate in Indonesia, that time is soon. I would also like to thank those other member nations that were sympathetic to us in Port Moresby and hope that you will support us at the United Nations General Assembly.
Moses Werror
Chairman OPMRC.
*Please write to the following leaders a polite letter and cite the following:
To: The Prime Minister of the Republic of Vanuatu
The Rt. Hon. Maxine Carlot
Government Building,
Port Vila,
The Republic of Vanuatu
The Prime Minister of the Republic of Fiji
The Rt. Hon. General Sitiveni Rabuka
Government Building,
Suva,
The Republic of Fiji
The Prime Minister of Papua New Guinea
The Rt. Hon. Sir Julius Chan
Morauta Building
PO Box 639
Waigani, NCD
Papua New Guinea
The Prime Minister of Solomon Islands
The Rt. Hon. Solomon Mamaloni,
Government Building,
Honiara,
Solomon Islands
As a friend of West Papua New Guinea (Irian Jaya) I would like to bring to your governments attention and consideration, the need to support the case of the Free West Papua Independence Movement (OPM) at the upcoming United Nations General Assembly.
I believe that since your government is a member of the Melanesian Spearhead Group it is your obligation to represent all issues concerning Melanesian Sovereignty. Please, on behalf of the people of West Papua, present the following requests and press for their inclusion at the upcoming United Nations General Assembly.
1. To initiate lobbying, and support for sponsor petition to rescind the UN General Assembly Resolution No.2504 of November 25, 1969 regarding West Papua or West Irian remaining a part of the Indonesian Republic.
2. To support lobbying for and to put the West Papua case on the list of decolonization at the United Nations Committee 24.
3. Calling for internationalising the territory, and preparing it for self governance and full independence, possibly by the end of the year 2000.
Thankyou
Signed:
==============================================================================
Latest Interview with Moses Werror, Chairman of the Free West Papua (OPM) Revolutionary Council.

Interviewed by phone from Madang, Papua New Guinea, by Ben Saul for Honi Soit, the Sydney University student newspaper, Sydney, Australia. Interviewed on 22 August, 1996.
What impact have Indonesian and foreign developments, like the Freeport mine, had on the West Papuan environment?:
The environment is a problem for our people because they do not have a right to protect what belongs to them. That is the reason we kidnapped 15 people earlier this year and released them, to get their attention and to negotiate. Its the only way to make people realise our situation, because they [Indonesia] have a secret war, that system that blocks all news out. Freeport promises money and builds houses, but something is not right. People don't want houses, they want their rights. They've built up schools but they teach the people in Indonesian ways. They see their brothers have independence about them. Freeport can give money or whatever but it will not solve the problem. We now have an organisation in New Orleans in the US that represents the people up in the Freeport area and pressures the Americans.
What has been the impact of Indonesian forced migration of settlers to West Papua?:
Transmigration policy was begun during the Dutch time. They put it down to suppress all Indonesian tribes in areas to make it easier for them to control. Now Indonesia now looks at it as an effective way to colonise the West Papuan people. Transmigrants are forced to get into this system, some don't like to work over there, some just come in to find the money and go back to where they are from. We succeeded in stopping their finance by the World Bank. But an unofficial transmigration system now operates and they use it because that way no one will blame them.
How has the Indonesian occupation affected local cultures and lifestyles?:
We tried to build up our culture and style of life but they don't like it. Indonesia wants to make one single culture, so they mix up all tribal cultures and set up a new modern one. Our people don't want it. The Party are not West Papuans - they refuse to attend it, they refuse to work with it. West Papuans want their culture to be alive, because they see PNG, Solomons, Vanuatu and Fiji - and wonder why they don't have a right to that too.
Do you think the pro-democracy movement in Indonesia at the moment, led by Sukarno's daughter, would support yout struggle?:
Yes. Megawati Sukarnoputri's movement was sparked in West Papua in 1994-95. The army broke up groups of people who wanted democracy. For a long time under the military government it has been very difficult for them to say what they believe. The shooting at Timika was also provoked by this, as was the kidnapping of the Mapanduma hostages, where we took some UN employees - that is one of our tactics of how to make West Papua an international case. Megawati has very good support up to now. The military and government apply pressure but I think we will find somewhere to go.
How many West Papuan refugees are living in Papua New Guinea?:
Unofficially, almost 20 000. Some become citizens, like myself, some residents, and some are still refugees. Officially, about 4 000 are registered in the refugee camps up in East Anwin, with many more thousands in the border area, with nowhere to go. The East Anwin refugees get money from the UN High Commission for Refugees and from the PNG government. They get fairly good education in East Anwin, but when you have refugees it means a struggle for independence in some way. That's why Indonesia does not like it, so they try to put pressure to close down the refugee camps.
Why should the OPM be regarded as the legitimate representative of the West Papuan people?:
That's what OPM is. OPM is the people of West Papua. West Papua is OPM. OPM came into being in July 1965 in Merauke. It began from our ex-army, when the Dutch trained our volunteers. OPM is identified with the struggle for West Papua. So when you talk about OPM, you talk about arms, soldiers, physical struggle.
Amnesty International has condemned you for the abduction of the hostages earlier in the year. How do you justify their abduction?:
Actually, the hostages were released by OPM after I negotiated with the Red Cross. But the son-in-law of President Soeharto, a commander of elite troops, attacked the hostage release ceremony on 15 May. Suddenly parachutes dropped down and shooting happened. The 2 Indonesian hostages that were killed the OPM had released - even some of the hostages agree to that. The army did not want to lose face, so they blamed it on us. But we do not mind, because we have achieved something.
Do you think the hostage situation has helped raise international recognition of your movement?:
Yes. One country has lined up to recognise us. In April I met some people from England and Holland in Honiara for a week of talks. It was positive, because our case was arranged to be mentioned before the UN. We have to find one country to present our case, and it will be discussed. I have already sent my appeal to four independent Melanesian countries, who we give first priority because they are our relations. If they can't do it, then we will look for another country.
What don't you accept the 1969 Act of Free Choice, where the people of West Papua chose to remain part of Indonesia?:
I myself saw how they finished the election in all districts before the UN supervision arrived, who could then only supervise 20% of votes. The military pressured West Papuans. The army commander warned if any West Papuan wanted to support a state of West Papua, their tongue would be cut off, that it would be better for them to ask the United States to find a new place on the moon for them. We had a big demonstration in Jayapura on 11 April 1969, where about 5000 people marched and signed a petition to refuse the voting system adopted by Indonesia. We wanted a truly UN-supervised Act of Free Choice. I was talking and as I came down the army started shooting. No Act of Free Choice happened. All the educated ones, including myself, were in the full-up jails. They sent people away to other islands. They cut my uncle's leg with a saw and sent him away. They put one man up on top of a flagpole.
Was only force used, or did they entice people to support them in other ways?:
Three to six months before the Act of Free Choice they put all the people who couldn't read or write into boarding houses. They give them free women, money, radio, everything. All they had to do was vote for the two-colour, that's the Indonesian flag. Whoever fought against it, their tongue would be cut off. All those who understood were already in the jails, and only the older ones, the women were left. The ones who could write and read were sent there just to sign it, just to say they agree with it, to put their finger marks on it. There was not an Act of Free Choice for anyone.
Some people say that West Papua is made up of over 250 different tribes. Is this a barrier to you achieving unity and independence?:
It's like PNG before PNG got independence. Everybody asked this question. It's a silly question, a neo-colonial, stupid question. West Papua was on the way to self-determination and self-government, but because the Dutch were so naive, they did not follow the developments of the new post-war politics. It has worked in PNG, which became self-governing in the 1960s and independent in the 70s. PNG has its own doctors, educators, money, currency and symbols. If PNG can survive then so can we. I assure you, we will have the best country in the South Pacific when we get independence.
What has been the attitude of the PNG government to your struggle?:
The PNG government is like the Howard and Keating governments, always playing diplomacy and being careful. It's a double-edged sword for them. The PNG government has sympathy for us. They are politicians, they are really the ones that can do something, but now we are just waiting to see. But the people from Vanuatu, Fiji, Solomons and PNG are my people, they support us 100 percent. If tomorrow war came, you would see many people support us. One of the top ministers of Sir Julius Chan's cabinet said to me on the road, "My brother, your case should be in, but we don't have enough time."
How has the Australian media helped your struggle?:
I'm very happy with the result we received from the hostages. It was well reported by the international media and we thank you for that because you've done a very good job for us. Especially in Jakarta, the Indonesian media really reported well the aim of our struggle and why we took the hostages. We took hostages and nothing happened, so we had to take someone important - so we took UN employees. Some of my people were angry with me because I asked for their release. They wanted to keep them until a UN decision but I said maybe one will die or something will happen and they will blame us. It was enough that we got international publication of our cause and released them alive.
What is your immediate aim?
Our struggle is working out in seven five-year term stages, which we started in 1963. Stage five was diplomacy, where we tried to bring the West Papuan case to the world. We printed t-shirts at our centre in Madang, to show our national symbols, which Indonesia burnt when they took over. We always put on the back "The international campaign to liberate West Papua Niugini." Now we are in stage six, "Recovering the lost nation", because we believe we were on the way to having our nation established in 1970, that's why the Act of Free Choice was in 1969.
Would you like to see there be another Act of Free Choice, but a fair one?:
Self-determination is already done, because in 1961 our official representatives under the Dutch New Guinea Council made the decision that we should be self-governing and establish an independent West Papua in 1970. We have already done self-determination, it's self-government that we now struggle for. It's like in Hawaii, they already had the monarchs, they had their state, but the marines attackedthem and took over that. They alreadyhave self-determination but they don't have self-government.
And would you have a democratic government if you could be self-governing?:
Yes we will have it. In five to ten years we will have a dual system of government. Some of my people are against me, they talk very strongly, but I say no. During the transition we will remain under Indonesian civil government but have OPM forces for security. I have asked the Melanesian states for an introduction to the UN and to initiate a resolution to make it international territory during the transition.
If you achieved self-government would you keep open the Freeport mine?:
Freeport Mine is under American policy. The American way is young soldiers dying for investment overseas, like in Saudi Arabia, in the Middle East and other places. I remember one big American man told me that he was sorry, but in 1960 they didn't help us because they couldn't. America only cares about its investments. Hopefully the American attitude will change - I think the White House said something about Megawati and the people asking for democracy. I hope something will come up and America will say something about us.
How would you like to see the Australian government help your struggle?:
The Australian government is being very careful, though they have sympathy for us. This happened in the Menzies time, with Sir Garfield Barwick as Foreign Minister, when it was very difficult to make their decision. We cried for them to help but they couldn't do it. The House of Assembly in Moresby tried to bring the West Papuan case to the UN, but the Australian government said no. So there is sympathy but I think they are waiting for there to be more action in West Papua. They will play cool policy or silent policy in the background.
Has anyone, like the Dutch, been able to negotiate with Indonesia?:
It's hard to make Indonesia negotiate because it's a combination of military rule and Stalinist communist government. It's a model of colonialism that hasn't happened in other places. It's very difficult when they use tactics of secret war, like in West Papua and other parts of Indonesia. No-one knows how many people they've killed. They even kill themselves - in communist times, they killed half a million Javanese. The world can't do anything. If tomorrow Indonesia killed all West Papuans, the world would just cry for a few months and then they'd forget. Indonesia is a very dangerous military country. But somebody must do something, otherwise they might expand to another place.
The Australia government gives military aid to Indonesia. What do you think of that?:
They're trying to make young Indonesian soldiers understand and realise what they are doing if they go to war and are fighting. To train them to understand and respect human beings. But maybe they forget their training. The Indonesian army is very different from the Australian army system. They make decisions in Jakarta but small army men do whatever they want in the bush, the army makes its own decisions. It's not like in Australia where they have strong discipline and they do what the politicians say.
Is the OPM fighting a guerilla war at the moment?:
Yes, we are fighting. People say the OPM are not strong, the OPM are breaking up, there are fights for leadership, this and that. But OPM is something different. We have small factional groups, but we fight for one aim - independence.
How strong is the OPM?:
We are strong, because OPM are the people, the people are OPM. So if anyone says the OPM is an elite group, they are wrong. The thing is, at the moment OPM is concentrating on diplomacy, with little activity inside West Papua. But if somebody would give us good weapons and bullets, I tell you, we would do a good job. We are not millionaires to have the money to buy soldiers. Only you and me, we only have knowledge, and our understanding should be put on paper, publish it to the world, and I'm sure that West Papua will be independent by the year 2000.
Do you have many weapons?:
We have a few simple weapons, we fight Indonesia and collect weapons, some army people help us. But we don't want to lose the lives of our people, so sometimes we are careful. One journalist from Jakarta said to me that so much has happened with democracy in Indonesia but they can't report it, especially in West Papua. Many in Indonesia go into the jungle and never come back alive. One Indonesian man said to me that if they give us good jobs and a good life, we will forget about OPM. But I said to him, "Sorry, you ask my people first, because our struggle is not for money or position, we struggle for independence." You cannot have human rights and a better living as long as you live under the Indonesian military.
END INTERVIEW

---
Your information, comments, questions, words of encouragement or support are welcome
boyjah@voicenet.co.jp