Foreshore and seabed information | Indigenous peoples' rights
Resistance
An Indigenous Response to Neoliberalism
---
Panel discussion on Tuesday, 14 August 2007
Resistance: An Indigenous Response to Neoliberalism
Edited by Dr Maria Bargh, Te Arawa (Ngati Kea/Ngati Tuara) and Ngati Awa
Huia Publishers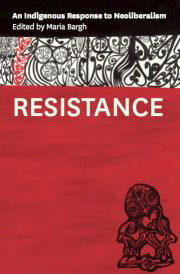 "Three years after the Hikoi protest against the Foreshore and Seabed Act, Huia launches Resistance: An Indigenous Response to Neoliberalism.
"Edited by Dr Maria Bargh, this collection of papers from Maori academics, activists and leaders is unique in highlighting the connection between globally dominant practices of neoliberalism and a diverse range of Maori resistance against them.
" "Policies which put the market first are neoliberal ones and impact negatively on us. But in the face of it all, Maori resistance is ongoing and vibrant and this book shows that" says Dr Bargh.
"Moana Jackson, Cherryl Smith, Maui Solomon, Annette Sykes, Claire Charters, Alice Te Punga Somerville, Bridget Robson and Teanau Tuiono speak candidly of their experiences, national and international, that are often invisible in current debates on globalisation." - Read more at http://www.huia.co.nz/?p=279.
Launched by Tariana Turia on 1 May 2007 in Wellington, Tariana's launch speech 'Raise your spirit higher: Acts of Resistance' is available online here.
More information about the book
Resistance: An Indigenous Response to Neoliberalism
Edited by Dr Maria Bargh
Huia Publishers

Contents: Papa-tu-a-nuku; Acknowledgements; Introduction; Maori development and neoliberalism, Maria Bargh; Economic determinants of Maori health and disparities, Bridget Robson; Cultures of collecting, Cherryl Smith; A long wait for justice, Maui Solomon; 'If I close my mouth I will die': writing, resisting, centring, Alice Te Punga Somerville; Blunting the system: the personal is the political, Annette Sykes; We are everywhere, Teanau Tuiono; A small issue of sovereignty, Maria Bargh; Maori and the United Nations, Claire Charters; Globalisation and the colonising state of mind, Moana Jackson; Appendix; Notes on contributors; Glossary; Bibliography; Index.
ISBN: 1-86969-286-1 Pages: 213 Format: softcover Price: $40
'Resistance' is now available in book stores, or can be ordered online from Huia.
Panel discussion on Tuesday, 14 August 2007
'Resistance: An Indigenous Response to Neoliberalism' editor Dr Maria Bargh (Te Arawa, Ngati Awa), and contributors Moana Jackson (Ngati Kahungunu, Ngati Porou) and Dr Alice Te Punga Somerville, will reflect on their contributions to the book before opening the discussion to questions from the floor. From 6pm to 7.30pm, Lecture Theatre 3, Goverment Buildings, Law School, 15 Lambton Quay, VUW Pipitea campus. Part of The 6 O'Clock Views series hosted by Continuing Education and Executive Development, Victoria University of Wellington, contact email.
---
Indigenous peoples' rights | Peace Movement Aotearoa