ANZAC Ploughshares | Waihopai prayer vigil | Peace Movement Aotearoa
Waihopai ANZAC Ploughshares deflate spy dome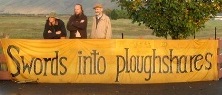 Please scroll down this page for the Waihopai Ploughshares statement
Ploughshares statement FAQ Contact and support Updates
Media coverage Fundraising for Iraq Support on 17-18 September 2008
18 September photos Let's Close Waihopai Spybase song [MP3 file]
Political, interactive bible study, US Embassy, Wellington:
6 November 2008 - details - photos; 4 December 2008 - details; 2009 and 2010: on the first Thursday of the month until March 2010, after the peace vigil, 6pm for a shared meal, 7pm for discussion and study, all welcome.
At 6am on the morning of 30 April 2008, three members of a Christian Ploughshares team entered the Waihopai spy base and used sickles to deflate one of the two 30 metre domes covering satellite interception dishes. They then built a shrine and prayed for the victims of the war with no end - the so-called 'war on terror' led by the United States government which also controls the NZ taxpayer funded Waihopai base.
The Waihopai ANZAC Ploughshares statement is copied below - more information including photos of the action and profiles of the team members Adi Leason, Sam Land and Father Peter Murnane, is available on the Ploughshares Aotearoa web site - if you have any difficulty accessing that site, you may need to register with WordPress.com (enter your email address and a password in the boxes provided, then click on 'just a username, please' unless you want to set up your own blog on the site).
Statement of the Waihopai ANZAC Ploughshares
They shall beat their swords into ploughshares, their spears into pruning hooks; nation shall not lift sword against nation; and there shall be no more training for war. Isaiah 2/4
This morning, 30 April 2008, we entered the Waihopai Spy Base near Blenheim.
Our group, including a Dominican Priest, temporarily closed the base by padlocking the gates and proceeded to deflate one of the large domes covering two satellite dishes.
At 6am we cut through three security fences surrounding the domes - these are armed with razor wire, infrared motion sensors and a high voltage electrified fence.
Once inside we used sickles to cut one of the two 30-metre white domes, built a shrine and knelt in prayer to remember the people killed by United States military activity.
We have financed our activities through personal savings, additional part-time employment and a small interest-free loan from one of our supporters.
We are responding to the Bush administration's admission that intelligence gathering is the most important tool in the so-called War on Terror. This war will have no end until citizens of the world refuse to let it continue. The ECHELON spy network including Waihopai, is an important part of the US government's global spy network and we have come in the name of the Prince of Peace to close it down.
The base is funded by New Zealand tax payers and located on New Zealand soil which makes New Zealand a target through our association with the UKUSA intelligence cooperation agreement.
Five years ago the Clark government opposed the US-led invasion of Iraq. Yet at the same time the Bush administration was using the National Security Agency's ECHELON system, of which Waihopai is an integral component, to spy on UN Security Council members so it could more easily swing them in favour of an invasion.
There have been over 100 Ploughshares actions over the last twenty years around the world. Ploughshares direct actions are linked through the common factors of: entry to locations connected to military activity, Christian prayers and most involve some form of property destruction.
Contact and support for Ploughshares Aotearoa
Ploughshares in New Zealand needs a range of support: prayer, advocacy and money are all important ways that supporters can participate in the witness of Ploughshares.
Prayer: karakia for peace, revelation and discernment are all essential prayers that people of faith can join us in.
Advocacy: people to learn and share more about the business and politics of war - to expose the powers that support the domination system and perpetuate military and economic violence against innocent people around the world.
Join mailing list: Send a message to email to be added to the Ploughshares mailing list for occasional updates;
Finances: if you would like to make a donation to Waihopai Ploughshares, please send your cheque payable to 'Peace Movement Aotearoa - Special Projects', with a note saying it is for Ploughshares, and your name and address (if you'd like a receipt) to Peace Movement Aotearoa, PO Box 9314, Wellington 6141. If you would like to make a direct credit to the account, please email Peace Movement Aotearoa for the details.
Some of the media and other coverage
---
Peace Movement Aotearoa | ANZAC Ploughshares