More information | How to order | New! Pou Korero
Skin to Skin
Intimate true stories of Maori-Pakeha inter-marriage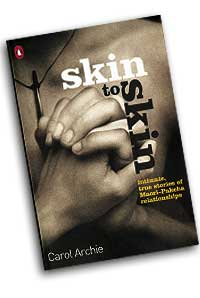 by Carol Archie
Published by Penguin New Zealand
"This is a wonderfully optimistic book, an antidote to the differences and divisions that usually line up under the heading 'race relations' " Herald on Sunday, 19 June 2005.
"Ten families made up of nearly 40 individuals talk intimately about Maori-Pakeha cross-cultural relationships, marriages and children. From the well known – Ranginui Walker, Tipene O'Regan and Carol Hirschfeld – to unknown 'ordinary' New Zealanders, these case studies examine the trials and victories of brown and white entering each other's worlds. In the process of telling their love stories, the subjects discuss vital issues such as cultural confusion, racism, personal and national identity and family politics."

More information

How to order
Update, 20 December 2007: unfortunately, due to the level of interest in 'Skin to Skin', there are no more copies left. If you wish to purchase a copy yourself, or would like to see 'Skin to Skin' available in bookshops for general sale, please contact Penguin Group (NZ) and ask for it to be reprinted. Their contact details are: Penguin Group (NZ), Private Bag 102 902, North Shore Mail Centre, Auckland 0745; fax (09) 442 7401; or email - please address your letter or message to Geoff Walker, Publishing Director, thank you.

Publication details
Skin to Skin: Intimate true stories of Maori-Pakeha inter-marriage
Carol Archie (Penguin New Zealand, 2005)
ISBN 0-14-301962-7
---
Indigenous peoples' rights | Peace Movement Aotearoa