Welcome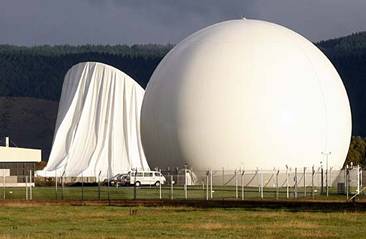 Photo, right: The Waihopai satellite spy station near Blenheim, New Zealand.
On April 30, 2008, three Ploughshares activists gained access to the base and slashed one of the rubber protective domes with a sickle.
The giant balloon deflated slowly and draped over the satellite dish. The dome was later replaced.
The three activists stood trial and were acquitted of all charges by a jury. The Government attempted to recover more than $1 million costs from them via a civil action but then dropped the case.
Latest updates
16 June 2022
Peace Researcher - Issue 63 uploaded to website
10 June 2022
Australia's Newly Elected Labor Prime Minister Anthony Albanese Rushed to Meet with Joe Biden in Tokyo After His Election Victory to Fortify Anti-Chinese Alliance
5 April 2022
8 March 2022
New Zealand Increasingly Sucked into Vortex of U.S. Empire under Fake Progressive Leadership of Jacinda Ardern
5 March 2022
Waihopai Domebuster Lost Family Home To Fire: Appeal

18 February 2022
Legislation Likely To Further Expand Surveillance Powers

10 February 2022
24 January 2022
Stuff: Waihopai Protest Cancelled As NZ Moves Into Red
30 November 2021
Newshub Nation: The Waihopai spy base through the decades
23 November 2021
17 November 2021
Waihopai Spy Base Protest Saturday January 29, 2022
13 November 2021
4 November 2021
Peace Researcher - Issue 62 uploaded to website
10 October 2021
12 September 2021
'Webinar: Keep Space For Peace: Rocket Lab Drags NZ Into US Wars

19 August 2021
'STOP Militarisation of Space' Rocket Lab HQ Protest Event Auckland 21 June '21 (Video)

4 August 2021
27 June 2021
ABC's Submission on 2021 Counter-Terrorism Legislation Bill (PDF 137KB)

22 June 2021
Peace Researcher - Issue 61 uploaded to website
19 May 2021
NZ Navy To Join UK Flotilla/Five Eyes Pushback/Spies
26 April 2021
14 March 2021
Rocket Lab Monitor added to Links page
22 February 2021
10 February 2021
The Urgent Need For Response To The Royal Commission Report On The Christchurch Mosques' Shootings
15 December 2020
Press Release: Abolish GCSB; Close Waihopai Spy Base; Get Out Of Five Eyes
5 November 2020
Peace Researcher - Issue 60 uploaded to website
25 September 2020
Waihopai Spy Base Protest Saturday January 30, 2021
Rocket Lab's New Director ex CIA
15 September 2020
New Video On Menwith Hill. NSA's Largest Overseas Spying Base
6 September 2020
New Video On US Warfighting & Spy Base At Pine Gap
25 July 2020
Updated "Islands Of The Empire" DVD released
17 June 2020
13 June 2020
Peace Researcher - Issue 59 uploaded to website
4 June 2020
29 February 2020
14 February 2020
1 February 2020
Waihopai Protest 2020 - Media coverage
6 December 2019
Submission on The Terrorism Suppression (Control Orders) Bill added to website
17 November 2019
Peace Researcher - Issue 58 uploaded to website
15 September 2019
21 June 2019
News Updates page added to website
16 June 2019
Peace Researcher - Issue 57 uploaded to website
7 May 2019
USAF B52's Wairarapa Flyover: Winston Peters' Letter To ABC Raises More Questions Than Answers
27 March 2019
Bomber Diplomacy: Why Was USAF B-52 Given Permission To Do Wairarapa Air Show Flyover?
12 February 2019
Waihopai Protest 2019: News Coverage
19 December 2018
Thompson & Clark just tip of Spyberg: Let's Have An Inquiry Into Whole Covert World Of State Spying
11 November 2018
Peace Researcher - Issue 56 uploaded to website
14 June 2018
Peace Researcher - Issue 55 uploaded to website
24 April 2018
ABC leaflet to download. New Zealand Should Not Follow Donald Trump.
This leaflet is written for the general public and ABC wants to to see it distributed far and wide. You can order hard copies from us at abc@chch.planet.org.nz Or you can download it yourself from here and print your own copies. It has two folds and looks best on glossy paper (but that is not essential).
12 April 2018
Demilitarising the Pacific starts at home, Jacinda
12 February 2018
Waihopai Protest 2018: News Coverage
7 November 2017
Peace Researcher - Issue 54 uploaded to website
27 October 2017
Anti-Bases Campaign Has Not Very Great Expectations Of New Government
3 July 2017
Peace Researcher - Issue 53 uploaded to website
ABC's analysis of 2016 Intelligence and Security Bill
Submissions to the Select Committee on the New Zealand Intelligence and Security Bill 2016. What should we be concerned about? Full details available via our downloadable Adobe Acrobat document (PDF 132KB).
Navigation