Welcome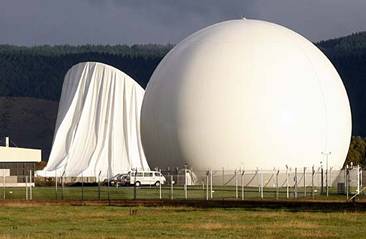 On April 30, 2008, three Ploughshares activists gained access to the base and slashed one of the rubber protective domes with a sickle.
The giant balloon deflated slowly and draped over the satellite dish.
The rubber has since been removed and the dish is is now exposed, directed at an Intelsat satellite and intercepting international communications.
(Above right: The Waihopai satellite spy station near Blenheim, New Zealand.)
Latest updates
12 February 2018
Waihopai Protest 2018: News Coverage
7 November 2017
Peace Researcher - Issue 54 uploaded to website
27 October 2017
Anti-Bases Campaign Has Not Very Great Expectations Of New Government
3 July 2017
Peace Researcher - Issue 53 uploaded to website
ABC's analysis of 2016 Intelligence and Security Bill
Submissions to the Select Committee on the New Zealand Intelligence and Security Bill 2016. What should we be concerned about? Full details available via our downloadable Adobe Acrobat document (PDF 132KB).
Navigation