Welcome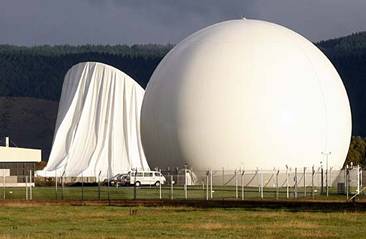 On April 30, 2008, three Ploughshares activists gained access to the base and slashed one of the rubber protective domes with a sickle.
The giant balloon deflated slowly and draped over the satellite dish.
The rubber has since been removed and the dish is is now exposed, directed at an Intelsat satellite and intercepting international communications.
(Above right: The Waihopai satellite spy station near Blenheim, New Zealand.)
Latest updates
31 August 2017
Waihopai Spy Base Protest, January 26-28, 2018. For full details, download our flyer.
3 July 2017
Peace Researcher - Issue 53 uploaded to website.
15 May 2017
Answers To Some Common Myths: NZ Intelligence Services, Five Eyes & The Waihopai Spy Base by Keith Locke added to Waihopai Protest 2017 page
26 April 2017
'What Does "Mother of All Bombs", Dropped on Afghanistan, Have To Do With Christchurch Airport?' uploaded to Press Releases page.
ABC's analysis of 2016 Intelligence and Security Bill
Submissions to the Select Committee on the New Zealand Intelligence and Security Bill 2016. What should we be concerned about? Full details available via our downloadable Adobe Acrobat document (PDF 132KB).
Navigation