Welcome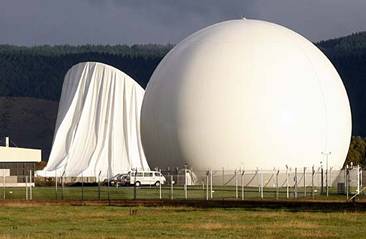 On April 30, 2008, three Ploughshares activists gained access to the base and slashed one of the rubber protective domes with a sickle.
The giant balloon deflated slowly and draped over the satellite dish.
The rubber has since been removed and the dish is is now exposed, directed at an Intelsat satellite and intercepting international communications.
(Above right: The Waihopai satellite spy station near Blenheim, New Zealand.)
Latest updates
Anti-Bases Campaign General Meeting Saturday August 4th; 1 p.m*. WEA Hall 59 Gloucester Street, Christchurch
The purpose of this meeting is threefold:
1/ To strategise with ABC members and supporters for the next Waihopai spy base protest (January 2019).
2/ The suggestion arose out of the most recent (2018) Waihopai protest that the next one should serve as the venue for a get together of activists from around the country. So, we need our members and supporters to strategise about this. To do such a gathering justice is beyond the resources of the ABC Committee. Meaning that we need help, in terms of people, money, organisation, publicity and logistics.
3/ To strategise with our members and supporters about what we have been recently doing and what we should be doing in future.
* The venue will be open from 12. You're welcome to bring your own lunch; tea and coffee, etc, will be provided.
14 June 2018
Peace Researcher - Issue 55 uploaded to website
24 April 2018
ABC leaflet to download. New Zealand Should Not Follow Donald Trump.
This leaflet is written for the general public and ABC wants to to see it distributed far and wide. You can order hard copies from us at abc@chch.planet.org.nz Or you can download it yourself from here and print your own copies. It has two folds and looks best on glossy paper (but that is not essential).
12 April 2018
Demilitarising the Pacific starts at home, Jacinda
12 February 2018
Waihopai Protest 2018: News Coverage
7 November 2017
Peace Researcher - Issue 54 uploaded to website
27 October 2017
Anti-Bases Campaign Has Not Very Great Expectations Of New Government
3 July 2017
Peace Researcher - Issue 53 uploaded to website
ABC's analysis of 2016 Intelligence and Security Bill
Submissions to the Select Committee on the New Zealand Intelligence and Security Bill 2016. What should we be concerned about? Full details available via our downloadable Adobe Acrobat document (PDF 132KB).
Navigation